Monday, June 4th, 2007
[lang_en]
Show Transcript
Comic Transcript
Panel 1.
Narration: Alkina's cosmological chat with Dr. Hubble continues.
Hubble Projection: I discovered that the universe is much larger than anyone ever imagined, containing countless galaxies other than our own Milky Way. Also that galaxies are mostly moving away from us, and that the further they are the faster they are moving away.
Alkina: That's interesting, but what does it mean?
Panel 2.
Hubble Projection: It was the first evidence for the theory that a very long time ago the universe was all compressed into a tiny dense state.
Panel 3.
Alkina: Really? What happened then?
Panel 4.
Hubble Projection: The universe expanded in a huge explosion called the B-B-B-BIG BANG…
Panel 5.
Alkina: Dr. Hubble? Epo, what's going on?
Epo: Alert Alkinal Systems Under Attack!
Hide Transcript
What does it mean?
Big Bang – This famous theory suggests that the universe was not always as it is today, and that at one point everything was compressed down into an extremely small point of unimaginable heat and density. Then, in the most violent and energetic event ever to occur, the universe began to expand and evolve into its present state. This rapid expansion was aptly named the "big bang."
The term, big bang, was coined by an English astronomer, Sir Fred Hoyle, to mock the theory. He was a proponent of the steady state theory, which suggests that the universe looks, on the whole, the same at all times and places. In order to explain Hubble's observations, this theory was modified to include the spontaneous creation of matter, which would keep the density of the universe at a constant value. The steady state theory had too many holes in it to be viable and was eventually dropped. However, the moniker, big bang, to describe the hot, dense beginning of the universe stuck and is now a part of astronomical vocabulary.
In human speak please!
Before Edwin Hubble's research, astronomers had been aware of the existence of spiral nebulae, strangely shaped "clouds" visible in the night sky, but did not know what they were. Moreover, the clouds were believed to be inside the Milky Way, which was thought to be the entire universe. Hubble astonished the astronomy world by demonstrating that these nebulae were distant galaxies like our own, and that the universe was many, many times larger than previously accepted by the astronomical community.
Is that all?
Story of the universe – A European Space Agency webpage that explains the beginning of the universe.
The center of the universe – Does the universe have a center? Use the link to find out. This page is also available in Spanish.
Multimedia? Yep, we've got it right here!
Animation of the evolution of the universe from the big bang. Credit: Dana Berry (Skyworks).
[/lang_en][lang_es]
Un nuevo episodio cada lunes!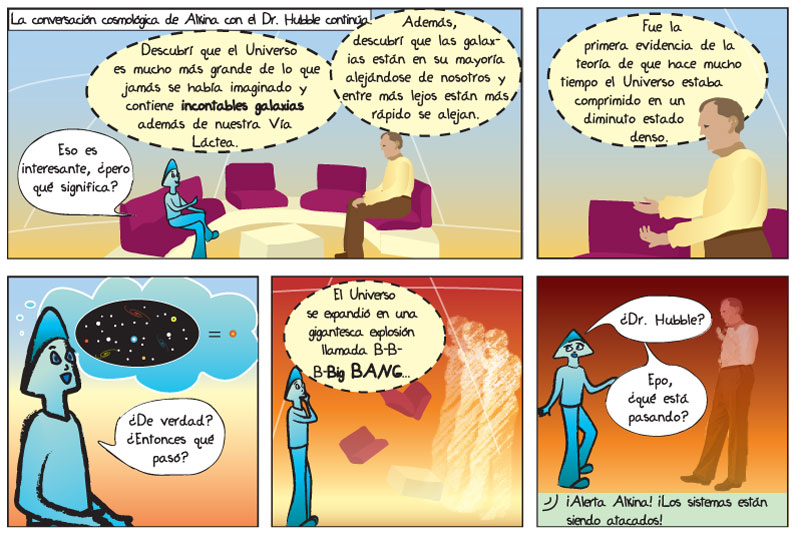 ¿Qué significa eso?
Big Bang – Esta famosa teoría sugiere que el Universo no ha sido siempre como lo es hoy en día, sino que todo estaba comprimido a un pequeño punto extremadamente chiquito de inimaginable alta temperatura y densidad. Entonces gracias al evento más violento y energético jamás ocurrido, el Universo comenzó a expandirse y evolucionar hasta llegar a su estado actual. A esta rápida expansión se le denominó acertadamente "Big Bang", lo que en inglés significa gran explosión.
El término, Big Bang, fue inventado por el astrónomo inglés, Sir Fred Hoyle, como burla a la teoría. Él fue quien propuso la teoría del estado estacionario la cual sugiere que el Universo se ve, en su totalidad, de la misma forma en cualquier tiempo y en cualquier lugar. Para explicar las observaciones de Hubble, esta teoría fue modificada para incluir la creación espontánea de materia lo que mantendría constante la densidad del Universo. Esta teoría tenía demasiados hoyos para ser viable y fue eventualmente rechazada. Sin embargo, el apodo de Big Bang, para describir el comienzo denso y a alta temperatura del Universo fue adoptado y forma parte del vocabulario astronómico.
¡En nuestra lengua por favor!
Previamente de la investigación de Edwin Hubble, los astrónomos estaban conscientes de la existencia de nebulosas espirales, "nubes" de forma extraña visibles en el cielo nocturno, pero no sabían lo qué eran realmente. Además, las nubes se pensaban que estaban dentro de la Vía Láctea, lo que se creía que era todo el Universo. Hubble sorprendió al mundo de la astronomía al demostrar que estas nebulosas eran galaxias lejanas cómo la nuestra, y que el Universo es muchísimas veces más grande de lo que antes era aceptado por la comunidad astronómica.

¿Eso es todo?
Story of the universe – Una página de la Agencia Espacial Europea que explica el comienzo del universo.
El centro del Universo – ¿Tiene el Universo un centro? Use la liga para averiguarlo.
¿Multimedia? Sí, ¡aquí la tenemos!
Animación de la evolución del Universo desde el Big Bang. Referencia: Dana Berry (Skyworks)
[/lang_es][lang_fr]
Nouvel épisode chaque lundi!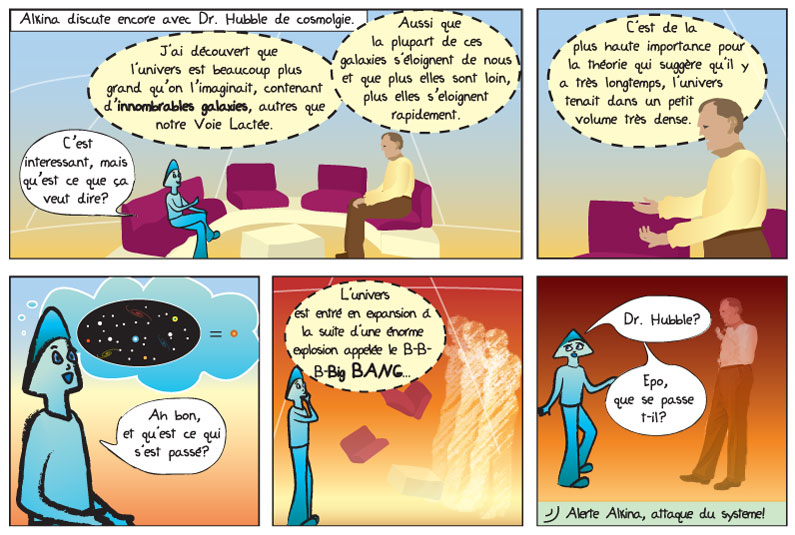 Qu'est ce que cela signifie?
Big Bang – ette théorie célèbre suggère que l'univers n'a pas toujours été comme on le connait, et qu'à un moment dans le temps tout était comprimé en un point extrêmement petit, chaud et dense. Puis, au cours du phénomène le plus violent et le plus énergique qui se soit jamais produit, l'univers a explosé, a commencé à augmenter de volume et à se transformer en son état actuel. Cette explosion a ainsi été nommée le "Big Bang."« Grand Boum. »
Le terme Big Bang a été inventée par un astronome anglais, monsieur Fred Hoyle, pour moquer la théorie. Il était partisan de la théorie de l'état stationnaire, qui suggère que l'univers est identique à lui-même en tout point de l'espace à une époque donnée. Afin d'expliquer les observations de Hubble, cette théorie a été modifiée pour inclure la création spontanée de la matière, qui garderait la densité de l'univers à une valeur constante. La théorie de l'état stationnaire était trop inconsistante pour être fiable et a été abandonnée par la suite. Cependant, le nom, Big Bang, pour décrire le commencement chaud et dense de l'univers est resté et fait maintenant parti du vocabulaire astronomique.
En langage courant!
Avant les recherches d'Edwin Hubble, les astronomes avaient découvert l'existence des nébuleuses spirales, de nuages de formes étranges dans le ciel, sans savoir ce que c'était vraiment. De plus, les gens pensaient que ces "nuages" faisaient partie de la Voie Lactée, et que tout cela représentait l'univers entier. Hubble a changé la face du monde de l'astronomie en suggérant que ces nébuleuses étaient des galaxies éloignées comme la nôtre, et que l'univers était immensément plus grand que ce que l'on pensait.
C'est tout?
Story of the universe – Une page web de l'agence spatiale européenne qui explique le commencement de l'univers.
The center of the universe – L'univers a-t-il un centre ? Suivez le lien pour le découvrir. Cette page est aussi disponible en Espagnole.
Multimédia? Nous avons ça ici!
Animation du commencement avec le big bang et de l'évolution de l'univers. Credit: Dana Berry (Skyworks).
[/lang_fr][lang_it]
Un nuovo episodio ogni Lunedi!
Cosa significa?
Big Bang – Questa famosa teoria suggerisce che l'universo non è sempre stato come lo vediamo oggi, ma che ad un certo momento tutto era compresso in uno spazio estremamente piccolo di densità e calore inimmaginabile. Allora, attraverso un evento di energia e violenza inaudito, l'universo ha cominciato ad espandersi ed evolversi fino a raggiungere lo stato attuale. Questa rapida espansione prende il nome di "big bang."
Il termine, big bang, fu coniato da un astronomo Inglese, Sir Fred Hoyle, per descrivere la teoria. Egli propose la teoria dello stato stazionario, la quale suggerisce che l'universo è identico a se stesso a tutti i tempi e in tutti i luoghi. Per spiegare le osservazioni di Hubble questa teoria è stata modificata, includendovi la creazione spontanea di materia che mantiene la densità dell'universo ad un valore costante. La teoria dello stato stazionario ha purtroppo troppi punti deboli per essere utilizzabile ed è stata abbandonata. Tuttavia, il termine big bang è rimasto a descrivere il momento iniziale in cui l'universo estremamente caldo e denso ha avuto origine, ed è entrato a far parte del vocabolario astronomico.
Nella nostra lingua per favore!
Prima delle ricerche di Edwin Hubble, gli astronomi conoscevano l'esistenza delle nebulose a spirale, strategicamente chiamate "nuvole" e visibili nel cielo notturno, ma ignoravano cosa fossero. Inoltre si credeva che queste nuvole fossero all'interno della Via Lattea, che si pensava costituisse l'intero universo. Hubble stupì il mondo degli astronomi dimostrando che queste nebulose erano lontane galassie simili alla nostra, e che l'universo era molte, molte volte più grande di quanto accettato in precedenza dalla comunità astronomica.
E' tutto?
Story of the universe – Un sito web della Agenzia Spaziale Europea che spiega l'inizio dell'universo.
The center of the universe – L'universo ha un centro? Utilizza questo link per trovarlo. La pagina è disponibile anche in Spagnolo.
Multimedia? Certo, l'abbiamo qui!
Animazione dell'evoluzione dell'Universo a cominciare dal Big Bang. Diritti: Dana Berry (Skyworks).
[/lang_it]