Friday, June 8th, 2007
[lang_en]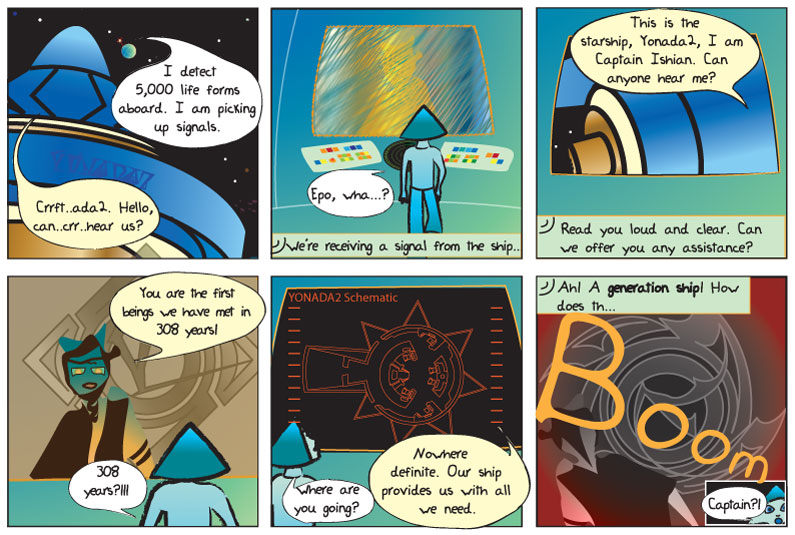 Show Transcript
Comic Transcript
Panel 1.
Epo: I detect 5,000 life forms aboard. I am picking up signals.
Yonada2: Crrft..ada2. Hello, can..crr..hear us?
Panel 2.
Alkina: Epo, wha…?
Epo: We're receiving a signal from the ship…
Panel 3.
Yonada2: THis is the starship, Tonada2, I am Captain Ishian. Can anyone hear me?
Epo: Read you loud and clear. Can we offer you any assistance?
Panel 4.
Captain Ishian: You are the first beings we have met in 308 years!
Epo: 308 years?!!!
Panel 5.
Alkina: Where are you going?
Captain Ishian: Nowhere definite. Our ship provides us with all we need.
Panel 6.
Epo: Ah! A generation ship! How does th…
*BOOM*
Hide Transcript
What does it mean?
Generation ship – is a theoretical space craft that could be constructed with the intent of sustaining several generations of people through the duration of its voyage.
In human speak please!
The nearest star is Proxima Centauri, at 4.3 light years. The Space Shuttle travels at nearly 25,000 kilometers per hour (over 15,000 mph), and if the fuel required to sustain this journey was not an issue it would take over 20,000 years for the Space Shuttle to reach Proxima Centauri!
While the average person lives to be over 70 years old, a generation generally covers a time span of 20 to 25 years. This would mean that it would take around 8,000 generations to reach the nearest stars with today's technologies.
Even if we could increase the speed by a factor of a thousand (not an easy task by any means), it would still take 8 generations to reach Proxima Centauri assuming that it is where we wanted to go. In order to make sure that the needs of all the residents of a generation ship are met, it would need to include doctors, scientists, gardeners, teachers among other professionals with all the appropriate tools and facilities they would require. This would make the ship self sustaining but in order to house everybody, it would need to be big….. very big; about the size of a small city.
Is that all?
Cruising the Infinite: Strategies for Human Interstellar Travel – an article on what is required for human interstellar travel as well as ideas for types of generation ships.
[/lang_en][lang_es]
¡Un episodio nuevo cada lunes!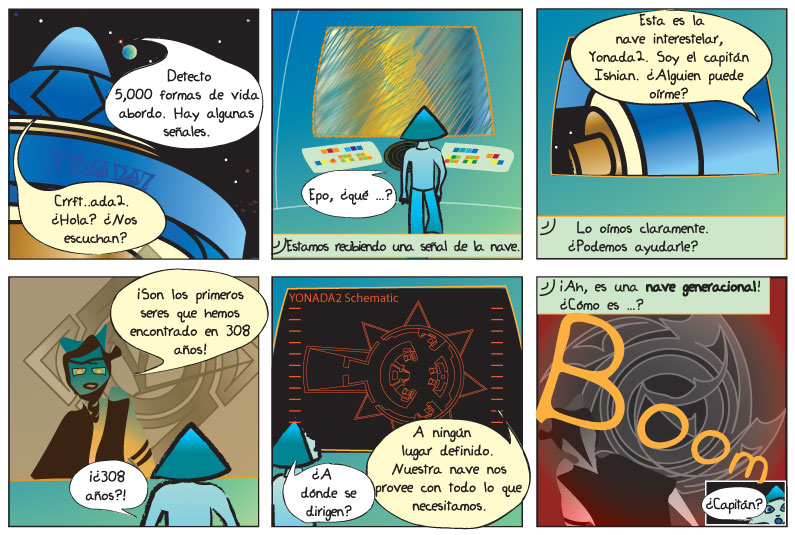 ¿Qué significa eso?
Nave generacional – Es una nave espacial hipotética que pudiera ser construida con la intención de sustentar a varias generaciones de personas a lo largo de su viaje.
¡En nuestra lengua por favor!
La estrella más cercana es Próxima Centauro a 4.3 años luz. El transbordador espacial viaja a casi 25,000 kilómetros por hora (más de 15,000 millas por hora), y si el combustible requerido para realizar este viaje no fuera un problema, ¡tomaría más de 20,000 años para que éste llegara a Próxima Centauri!
Mientras la persona promedio vive más de 70 años, una generación en realidad cubre el lapso de 20 a 25 años. Eso significa que tomaría alrededor de 8,000 generaciones para llegar a las estrellas más cercanas con la tecnología de hoy en día.
Incluso si pudiéramos aumentar la velocidad por un factor de mil (una tarea nada fácil), aún tomaría 8 generaciones para llegar a Próxima Centauri asumiendo que ahí es dónde queremos ir. Para asegurarse que las necesidades de todos los residentes de la nave generacional sean satisfechas, se necesitaría incluir doctores, científicos, jardineros, maestros, entre otras profesiones junto con todas las herramientas e instalaciones que éstas requieran. La nave sería entonces autosuficiente pero para mantener a todos tendría que ser grande… muy grande, del tamaño de una ciudad pequeña.
¿Eso es todo?
Cruising the Infinite: Strategies for Human Interstellar Travel – Un artículo en inglés sobre lo que se requiere para que los humanos puedan hacer viajes interestelares así cómo ideas para tipos de naves generacionales.
[/lang_es][lang_fr]
Nouvel épisode chaque lundi!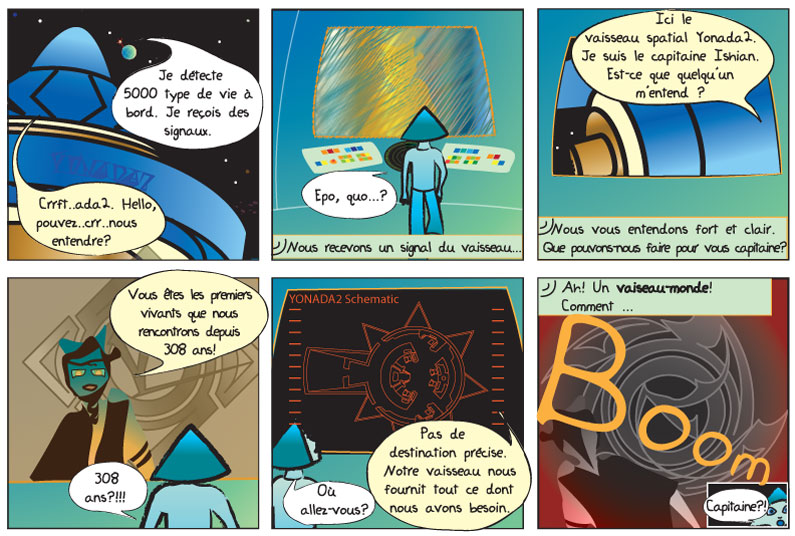 Qu'est ce que cela signifie?
Vaisseau monde – un vaisseau spatial conceptuel destiné à abriter et convoyer un peuple entier de plusieurs générations de personnes pendant la durée d'un très long voyage.
En langage courant!
L' étoile la plus proche est Proxima Centauri, à 4.3 années-lumière. La navette spatiale avance à presque 25000 kilomètres/heure, et si le carburant nécessaire pour compléter ce voyage n'était pas un problème, il faudrait environ 20000 ans pour que la navette spatiale atteigne Proxima Centauri!
Puisque une personne vit en moyenne 70 ans, une génération couvre généralement une période de 20 à 25 ans. Ceci signifie qu'il faudrait environ 8000 générations pour atteindre les étoiles les plus proches avec les technologies d'aujourd'hui.
Même si nous pouvions augmenter la vitesse d'un facteur de mille (une tâche qui serait…difficile), il faudrait quand même 8 générations pour atteindre Proxima Centauri en supposant que tel est le but de notre voyage. Afin de s'assurer que les besoins de tous les résidants d'un vaisseau-monde soient satisfaits, il faudrait inclure des médecins, des scientifiques, des jardiniers, des professeurs parmis d'autres professionnels avec tous les outils appropriés et les équipements dont ils auraient besoin. Ceci permettrait au vaisseau-monde d'être autonome. Mais afin de loger tout le monde, il faudrait surtout que ce vaisseau soit grand ….. très grand; à peu près de la taille d'une petite ville.
C'est tout?
Cruising the Infinite: Strategies for Human Interstellar Travel – Un article sur les nécessités exigées pour un voyage interstellaire humain, ainsi que des idées de types de vaisseau-monde.
[/lang_fr][lang_it]
Un nuovo episodio ogni Lunedi!
Cosa significa?
Astronave generazionale – astronave che potrebbe essere costruita con l'intento di mantenere molte generazioni di persone nella durata del suo viaggio.
Nella nostra lingua per favore!
La stella più vicina è Proxima Centauri, a 4,3 anni luce. Lo Space Shuttle viaggia a circa 25.000 chilometri l'ora (oltre 15.000 miglia l'ora), e se il combustibile richiesto da questo viaggio non fosse un problema ci vorrebbero circa 20.000 anni allo Space Shuttle per raggiungere Proxima Centauri!
Mentre una persona vive in media 70 anni, una generazione copre generalmente un periodo di tempo dai 20 ai 25 anni. Questo significa che ci vorrebbero circa 8.000 generazioni per raggiungere la stella più vicina con le tecnologie odierne.
Anche se potessimo aumentare la velocità di un fattore mille (compito non facile) ci vorrebbero ancora 8 generazioni per raggiungere Proxima Centauri assumendo che quello fosse il posto dove volevamo andare. Per essere sicuri che siano soddisfatte le necessità di tutti i residenti di una astronave generazionale, sarebbe necessario includere dottori, scienziati, giardinieri, insegnanti tra gli altri professionisti con tutti gli strumenti e le attrezzature necessarie. Questo renderebbe l'astronave autosufficiente ma per alloggiare tutti dovrebbe essere grande… molto grande, all'incirca delle dimensioni di una piccola città.
E' tutto?
Cruising the Infinite: Strategies for Human Interstellar Travel – un articolo su cosa è richiesto per un viaggio interstellare ed alcune idee su diversi tipi di astronave generazionale.
[/lang_it]