Monday, August 25th, 2008
[lang_en]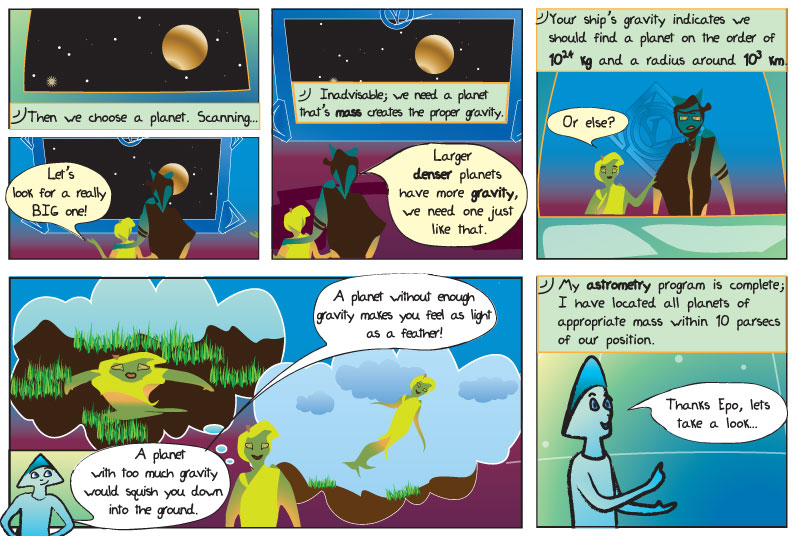 What does it mean?
Mass – is a measurement of how much stuff, or "matter," an object is made.
Kilogram – is the standard unit for measuring mass.
Kilometer – is a unit for measuring length. The average length between Earth's center and its surface is about 6,000 Kilometers.
Density – is a measure of how much matter is packed into a certain amount of space. Denser objects have more material packed into a given space than lower density objects.
Gravity – is the universal force of attraction between all matter.
In human speak please!
1024 used in the comic strip above is a quick way of writing a 1 with 24 zeroes after it. It's a lot easier than 1,000,000,000,000,000,000,000,000, isn't it? Similarly, 103 is just a quick way of writing 1,000. This short-cut method of writing large numbers is known as the scientific notation.
The Newtonian Law of Gravity says that any two objects in the universe are attracted towards each other with a force that is directly proportional to the product of their masses and inversely proportional to the square of the distance between them (see equation below). This means that the more massive the two objects, the bigger the force of attraction between them but this force diminishes as you increase the distance between them.

where F is force of gravity between two objects, G is Newton's Gravitational Constant, M is the mass of one object, m is the mass of the other object, and R is the distance between them.
For example, on the moon, which has less mass than Earth, you would feel about 1/6th of the gravitational force you do on Earth, and on Jupiter, which has more mass, you would feel over twice as much. Also, on the surface of Earth, we feel more force of gravity than we would in space.
As defined above, mass is amount of "stuff" something is made of. Weight, on the other hand, is a measure of the force of gravity experienced by an object. Therefore, while an object's weight will change depending on whether you measure it on Earth or on the moon, its mass will not.
Is that all?
Your Weight on Other Worlds – an educational web tool from the Exploratorium that allows you to see what you would weigh on other planets in our solar system.
Microgravity: Always A Bad Hair Day – Astronauts in low gravity in space. Includes teaching lesson plans.
It's Gravity – Activity to develop students' understanding of gravity and its critical role as the main mover of the universe.
Newton's Law of Gravitation – Educational poster that illustrates Newton's Law of Gravitation along with two classroom-ready activities.
Scientific Notation – Scientific notation explained with examples.
[/lang_en][lang_es]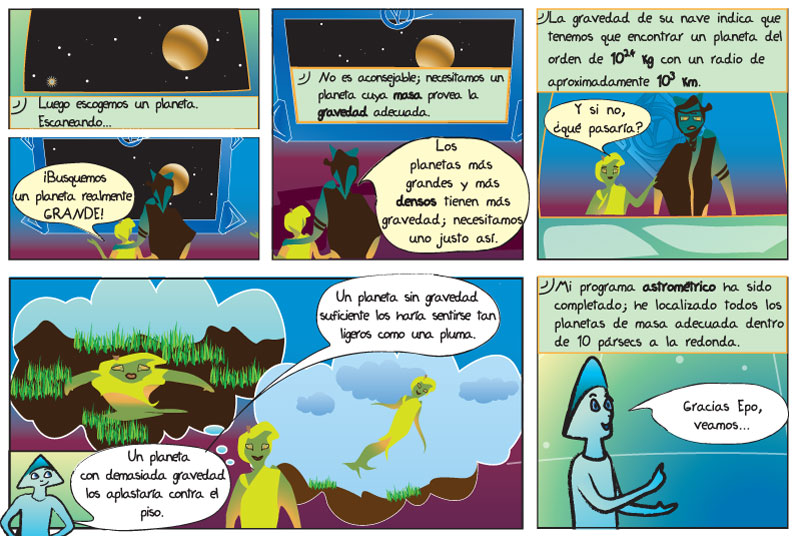 ¿Qué significa eso?
Masa – Es una medida de qué tanto material un objeto está compuesto.
Kilogramo – Es la medida estándar para medir masa.
Kilómetro – Es una unidad de medida de longitud. La longitud promedio entre el centro de la Tierra y su superficie es de aproximadamente 6,000 kilómetros.
Densidad – Es la medida de qué tanta materia hay en cierta cantidad de espacio. Los objetos más densos contienen más material en un volumen dado que los objetos de densidad más baja.
Gravedad – Es la fuerza de atracción universal entre toda la materia.
¡En nuestra lengua por favor!
El número 1024 utilizado en este cómic es una manera rápida de escribir un 1 seguido de 24 ceros. Es mucho más fácil de escribir que 1,000,000,000,000,000,000,000,000, ¿o no? De igual forma, 103 es una manera rápida de escribir 1,000. Este método de abreviar la escritura de números es conocido como la notación científica.
La Ley de Gravedad de Newton dicta que dos objetos cualesquiera serán atraídos mutuamente con una fuerza proporcional al producto de sus masas e inversamente proporcional al cuadrado de la distancia entre ellas (ver la siguiente ecuación). Eso significa que entre más masivos sean dos objetos mayor es la fuerza de atracción entre ellos; sin embargo, esta fuerza disminuye al incrementar la distancia entre los objetos.

dónde F es la fuerza de gravedad entre dos objetos, G es la constante gravitacional de Newton, M es la masa de uno de los objetos, m es la masa del otro objeto y R es la distancia entre ellos.
Por ejemplo, en la Luna la cual tiene menos masa que la Tierra, uno sentiría aproximadamente una sexta parte de la fuerza gravitacional que se siente en la Tierra, y en Júpiter, el cual tiene más masa, uno sentiría por encima de dos veces más. También, en la superficie de la Tierra, sentimos más fuerza de gravedad que lo que sentiríamos en el espacio.
Así cómo lo dice la definición, la masa es la cantidad de materia de la que está compuesta un objeto. El peso es una medida de la fuerza de gravedad a la que está sujeta un cuerpo. Así que mientras el peso de un objeto cambiará dependiendo de dónde lo midas, por ejemplo en la Tierra o en la Luna, su masa se mantendrá constante.

¿Eso es todo?
Your Weight on Other Worlds – Una herramienta en línea de Exploratorium la cual te permite ver cual sería tu peso en otros planetas de nuestro Sistema Solar.
Microgravity: Always A Bad Hair Day – Astronautas en el espacio a baja gravedad, incluye un plan de estudios.
It's Gravity – Una actividad para desarrollar el concepto de gravedad y su rol crítico cómo el principal movedor en el Universo.
Newton's Law of Gravitation – Un póster educativo que ilustra la Ley de la Gravitación de Newton junto con dos actividades listas para el salón de clases.
[/lang_es][lang_fr]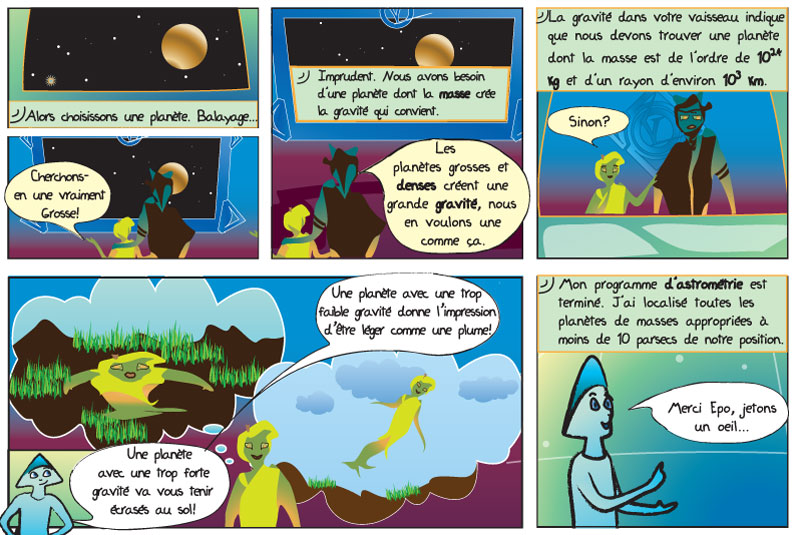 Qu'est ce que cela signifie?
Masse – une mesure de "quantité de matière" qui constitue un objet.
Kilogramme – unité de masse, pour mesurer la quantité de matière d'un objet.
Kilomètre – unité de mesure de distance, par exemple pour mesurer la longueur d'un objet. La Terre a un rayon d'environ 6.000 kilomètres.
Densité – La densité est le rapport de la masse volumique d'un corps avec celle de l'eau pour les solides ou de l'air pour les gaz. La masse volumique mesure la quantité de matière contenue dans un espace défini. Les objets les plus denses auront plus de matière comprimée dans un plus petit espace.
Force de Gravité – la force de l'attraction universelle qui s'exerce entre tous les corps.
En langage courant!
1024 est utilisé dans la bande dessiné ci-dessus pour simplifier l écriture de 1 avec 24 zéros derrière. C'est plus simple que d'écrire: 1.000.000.000.000.000.000.000.000, n'est-ce pas? De même, 103 est juste une manière plus simple est rapide d'écriture 1.000. Cette méthode d'écriture "rapide" de grands nombres est connue sous le nom de notation scientifique.
La loi de la gravitation newtonienne indique que deux objets quelconques dans l'univers sont attirés l'un vers l'autre avec une force qui est directement proportionnelle au produit de leurs masses et inversement proportionnel au carré de la distance entre elles (voir l'équation ci-dessous). Ceci signifie que plus les deux objets sont massifs, plus la force d'attraction entre elles est grande, mais cette force diminue quand la distance augmente entre les deux objets.

Où F est la force de gravitation entre deux objets, G est la constante de la gravité de Newton, M est la masse d'un objet, m est la masse de l'autre objet, et R est la distance entre ces deux objets.
Par exemple, sur la lune, qui a moins de masse que la Terre, vous sentiriez 1/6eme de la force de gravitation que vous sentez sur la Terre, et sur Jupiter, qui a plus de masse, vous sentiriez plus de deux fois cette force. D'autre part, à la surface de la Terre, nous sentons une force de gravité plus grande que si on est plus loin dans l'espace.
Comme défini ci-dessus, la masse est la quantité de matière d'un objet. En revanche le "poids", est la mesure de la force de la gravitation éprouvée par un objet. Par conséquent, alors que le poids d'un objet changera selon l'endroit ou vous le mesurerez, sur Terre ou sur la lune, sa masse elle ne changera pas.
C'est tout?
Your Weight on Other Worlds – un outil éducatif de l'Exploratorium qui te permets de voir ce que tu pèses sur d'autres planètes dans notre système solaire.
Microgravity: Always A Bad Hair Day – astronautes en faible gravité dans l'espace. Inclut des cours et des leçons.
It's Gravity – activité pour développer la connaissances des étudiants sur la pesanteur et sur son rôle critique en tant que "moteur" principal de l'univers.
Newton's Law of Gravitation – Poster éducatifs qui illustrent les lois de Newton avec deux activités de classes.
[/lang_fr][lang_it]
Cosa significa?
Massa – è la misura della quantità di "materia" che costituisce un oggetto.
Chilogrammo – è l'unità standard per la misura della massa.
Chilometro – è una unità di misura per le lunghezze. La distanza media tra il centro della Terra e la sua superficie è circa 6000 chilometri.
Densità – è la misura di quanta materia è rinchiusa in una determinata regione dello spazio. Oggetti più densi hanno più materia racchiusa in un dato spazio rispetto ad oggetti di densità minore.
Gravità – è la forza di attrazione universale tra le masse.
Nella nostra lingua per favore!
Il numero 1024 usato nel fumetto è una maniera veloce di scrivere un 1 seguito da 24 zeri. E' più facile che scrivere 1.000.000.000.000.000.000.000.000, vero? Nello stesso modo, 103 è un modo veloce di scrivere 1.000. Questo modo abbreviato di scrivere numeri così grandi si chiama notazione scientifica.
La Legge di Gravità di Newton stabilisce che due oggetti nell'universo si attraggono l'un l'altro con una forza che è direttamente proporzionale al prodotto delle loro masse ed inversamente proporzionale al quadrato della loro distanza (vedi l'equazione sotto). Questo significa che più grande è la massa dei due oggetti, maggiore è la forza di attrazione tra loro, ma questa forza diminuisce all'aumentare della loro diatanza.

dove F è la forza di gravità tra i due oggetti, G è la Costante Gravitazionale di Newton, M è la massa di un oggetto, m è la massa dell'altro oggetto, e R è la distanza tra essi.
Per esempio, sulla Luna, che ha una massa inferiore a quella della Terra, la forza gravitazionale è circa 1/6 di quella terrestre, e su Giove, che ha una massa maggiore, la forza di gravità è più del doppio. Inoltre, sulla Terra siamo soggetti a una forza di gravità molto superiore a quella che sentiremmo nello spazio.
Come è stato detto la Massa è l'ammontare di "materia" di cui è fatto un oggetto. Il Peso, è invece la misura della forza di gravità a cui è sottoposto l'oggetto. Perciò, mentre il peso di un oggetto cambia a seconda di dove lo misuri, sulla Terra o sulla luna, la sua massa non cambia.
E' tutto?
Perché la forza di gravità non è repulsiva? – ecco la risposta dell'Ulisse, il portale della SISSA, la Scuola Internazionale Superiore di Studi Avanzati (Trieste).
A caccia delle onde gravitazionali – conosci EGO, l'Osservatorio Europeo per la rivelazione di Onde gravitazionali.
Your Weight on Other Worlds – uno strumento didattico dell'Exploratorium che ti permette di vedere quanto peseresti sugli altri pianeti del nostro sistema solare.
Microgravity: Always A Bad Hair Day – Astronauti nello spazio a bassa gravità.
It's Gravity – Attività didattiche per sviluppare negli studenti la comprensione del concetto di gravità ed il suo ruolo critico come motore principale dell'universo.
Newton's Law of Gravitation – Poster che illustra la legge di Gravitazione Newton.
[/lang_it]