Thursday, April 24th, 2008
[lang_en]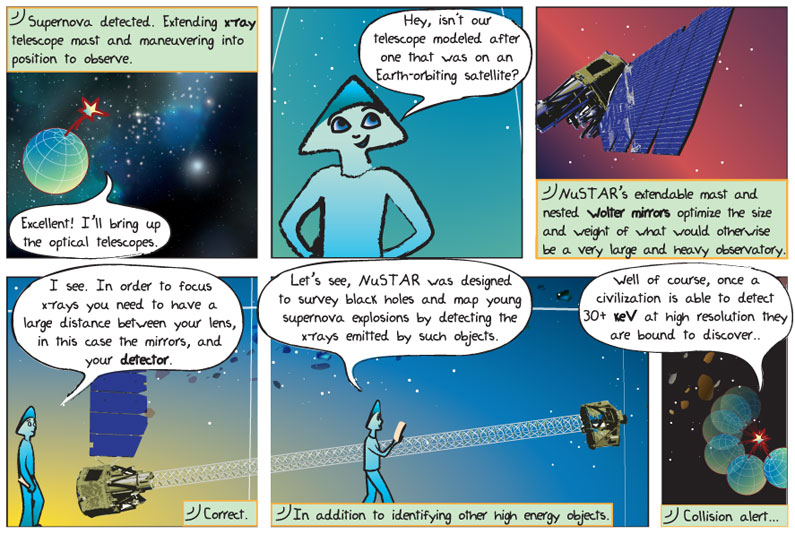 What does it mean?
X-ray – high energy electromagnetic radiation that is more powerful than visible and ultra-violet light but less powerful than gamma-rays. Because of their high energies and short wavelengths, x-rays can easily pass through "soft" materials and can be used to image the insides of things, like the human body.
Wolter mirrors – Special mirrors that are able to reflect x-rays. (Video)
Detector – a device, or devices, used to detect photons, or in some cases other particles like protons, electrons, etc.
keV – Kilo Electron Volts. The electron volt (eV) is a measurement of energy; it is the energy gained by an electron (or proton) dropping through a potential of one volt. This is a tiny amount of energy, appropriate for describing the energies of atomic and subatomic particles. To give an example, the energy of visible light photons is about 1 eV. Adding the prefix "kilo" means we are talking about one thousand electron volts (keV). It takes about 6 x 1015 keV to equal 1 joule.
In human speak please!
NuSTAR uses a special type of mirror that was invented by the German physicist Hans Wolter in 1952. X-rays are difficult to focus onto film. This is because if the x-rays hit the mirror or lens at a large angle, they will either be completely blocked (absorbed) or pass straight through the material. It's a little bit like skipping stones on a lake, if you throw a rock directly at the water, the rock will sink immediately. But if you hit the surface of the lake at a glancing angle, the stone will "skip" across the surface. In order to focus x-rays, they must hit the mirrors at a shallow angle, so x-ray telescopes use a series of nested mirrors that focus by using several glancing reflections that only gradually bring the x-rays to a focus.
Is that all?
NuSTAR – CalTech's NuSTAR site.
Multimedia? Yep, we've got it right here!
A short video about converting from electron-volts to Joule and back. Credit: Riaz Abdulla.
[/lang_en][lang_es]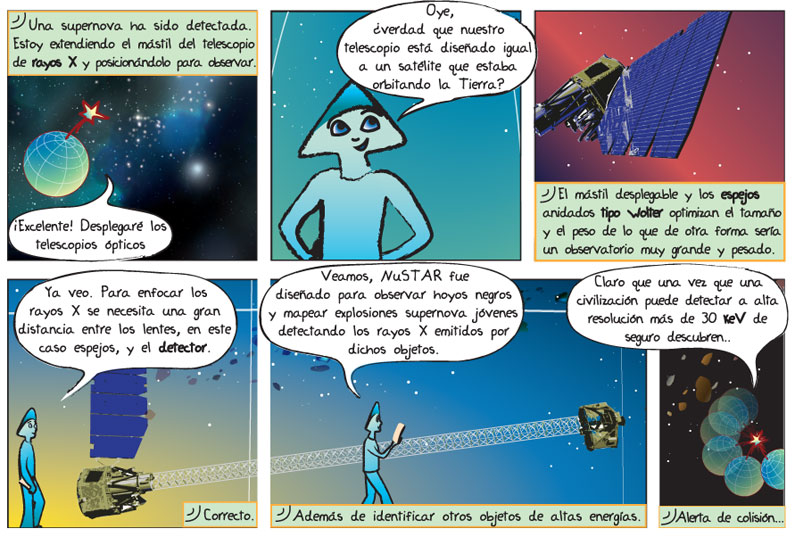 ¿Qué significa eso?
Rayos X – Es radiación electromagnética de alta energía que es más potente que la visible y la ultravioleta, pero menos energética que los rayos Gamma. Debido a sus altas energías y a sus longitudes de onda cortas, los rayos X pueden atravesar fácilmente materiales "suaves" y pueden ser usados para tomar imágenes del interior de las cosas, como el cuerpo humano.
Espejos tipo Wolter – Son espejos especiales que están diseñados para poder reflejar rayos X. (Video en inglés)
Detector – Es un dispositivo, o conjunto de dispositivos, que se utiliza para detectar fotones, o en algunos casos otras partículas, como protones, electrones, etc.
keV – Significa kilo electronvoltio. El electronvoltio (eV) es una medida para medir energía; es la energía adquirida por un electrón (o un protón) que recorre una diferencia de potencial de un voltio en el vacío. Esto es una pequeña cantidad de energía, y es apropiada para describir las energías atómicas y subatómicas de las partículas. Para dar un ejemplo, la energía de la luz visible es de aproximadamente1 eV. Al agregar el prefijo "kilo" estamos hablando de mil electronvoltios (keV). Un julio es igual a 6 x 1015 keV.
¡En nuestra lengua por favor!
NuSTAR usa un tipo especial de espejos que fue inventado por el físico alemán Hans Wolter en 1952. Los rayos X son difíciles de enfocar en película. Esto es porque si uno de los rayos X pega en el espejo o lente a un ángulo grande, serán completamente bloqueados (absorbidos) o pasarán a través del material. Es parecido a hacer saltar piedras sobre una superficie de agua; si tiras la piedra directamente al agua, ésta se hundirá inmediatamente. Pero si le pega a la superficie en un ángulo, la piedra saltará sobre el agua. Para enfocar los rayos X, éstos deben incidir en los espejos con un ángulo pequeño, así que los telescopios de rayos X usan una serie de espejos anidados que enfocan al usar más de una reflexión superficial que enfocan los rayos X poco a poco.
¿Eso es todo?
NuSTAR – Es la página de NuSTAR de CalTech.
¿Multimedia? Sí, ¡aquí la tenemos!
Este video describe (en inglés) como convertir las unidades de energía de electronvoltios a julios y de vuelta. Referencia: Riaz Abdulla.
[/lang_es][lang_fr]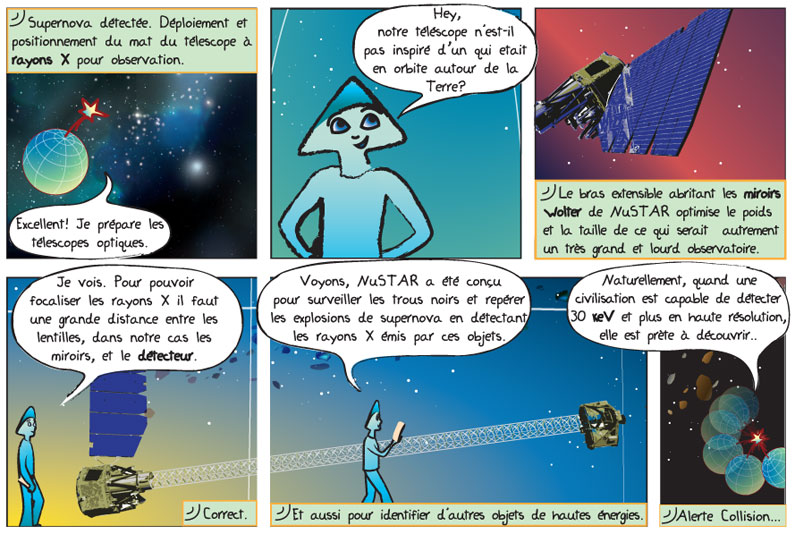 Qu'est ce que cela signifie?
Rayon X – rayonnement électromagnétique de haute énergie qui est plus puissant que la lumière visible et les UV mais moins puissant que les rayons gamma. En raison de leurs hautes énergies et longueurs d'onde courtes, les rayons X peuvent facilement passer à travers des matériaux « souples » et peuvent être utilisés pour visualiser l'intérieur des choses, comme le corps humain.
Miroirs de Wolter – miroirs spéciaux qui reflètent les rayons X. (Vidéo)
Détecteur – un dispositif, ou plusieurs dispositifs, utilisés pour détecter des photons, ou dans certains cas d'autres particules comme les protons, les électrons, etc.
keV – Kilo électron-Volts. L'électron-Volt (eV) est une unité de mesure d'énergie; c'est l'énergie gagnée par un électron (ou proton) qui est accéléré par une différence de potentiel d'un volt. C'est une quantité minuscule d'énergie, unité appropriée pour décrire les énergies des particules atomiques et subatomiques. Pour donner un exemple, l'énergie des photons de lumière visible est d'environ 1 eV. En ajoutant le préfixe « kilo » nous parlons de mille électron-volts (keV). Il faut environ 6 x 1015 keV pour égaler 1 Joule.
En langage courant!
NuSTAR emploie un type spécial de miroir qui a été inventé par le physicien allemand Hans Wolter en 1952. Il est difficile de focaliser les rayons X sur du film. C'est dû au fait que les rayons X qui atteignent le miroir ou l'objectif avec un angle d'incidence important, seront soit complètement bloqués (absorbés), soit ils passeront directement à travers le matériel. Cela ressemble un peu aux pierres que l'on fait ricocher sur un lac, si vous jetez une roche directement à l'eau, la roche descendra immédiatement. Mais si vous lancez la pierre à un angle presque parallèle à la surface du lac, la pierre « ricochera ». Afin de focaliser les rayons X, ils doivent frapper des miroirs sous un angle d'incidence faible. Ainsi les télescopes à rayons X utilisent une série de miroirs successifs qui concentrent, grâce à plusieurs réflexions à angle d'incidence faible, les rayons X en un point de focalisation.
C'est tout?
NuSTAR – Site internet de CalTech sur NuSTAR.
Multimédia? Nous avons ça ici!
Une courte vidéo sur la conversion des électron-volts en Joule et vice versa. Crédit : Riaz Abdulla
[/lang_fr][lang_it]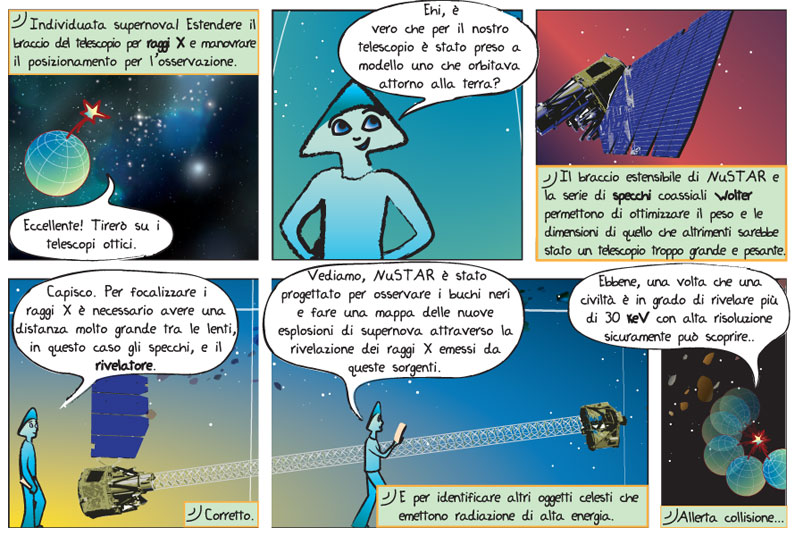 Cosa significa?
Raggi X – è la radiazione elettromagnetica di energia più elevata rispetto alla luce visibile e ultravioletta, ma meno rispetto ai raggi gamma. A causa della loro alta energia e della lunghezza d'onda piccola, i raggi X possono facilmente attraversare materiale "leggero" e sono utilizzati per ottenere immagini dell'interno di oggetti e cose, come ad esempio il corpo umano.
Specchi Wolter – Specchi speciali in grado di riflettere i raggi X. (Video)
Rivelatore – in questo caso è un apparecchio che permette di rivelare fotoni ma esistono rivelatori anche di particelle come i protoni, gli elettroni, ecc….
keV – kilo electron Volt. L'elettronvolt (eV) è una misura di energia e corrisponde all'energia acquistata da un elettrone quando passa attraverso una differenza di potenziale di un volt. E' l'unità di misura utilizzata per descrivere le energie delle particelle atomiche e subatomiche. L'energia della luce visibile è circa 1 eV. Aggiungere il prefisso "kilo" vuol dire moltiplicare per mille l'energia di 1 eV, cioè 1 keV sono 1000 eV. 1 Joule corrisponde a circa 6 x 1015 keV.
Nella nostra lingua per favore!
NuSTAR utilizza un tipo speciale di specchio inventato nel 1952 dal fisico tedesco Hans Wolter. E' difficile focalizzare i raggi X su una lastra fotografica. Quando i raggi X colpiscono uno specchio o una lente con un angolo relativamente grande, essi vengono o bloccati completamente (assorbiti) dal materiale oppure lo attraversano. E' un po' come lanciare un sasso su una superficie d'acqua. Se getti la pietra nell'acqua essa andrà a fondo immediatamente, ma se colpisci la superficie ad un angolo piccolo, radente il pelo dell'acqua, il sasso "rimbalzerà" sulla superficie. Per essere focalizzati i raggi X devono colpire lo specchio ad un piccolo angolo. Per questo motivo i telescopi a raggi X utilizzano una serie di specchi coassiali, inseriti uno nell'altro, che permettono di focalizzare gradualmente i raggi X attraverso riflessioni multiple di striscio.
E' tutto?
NuSTAR – Il sito web di NuSTAR di CalTech (California Institute of Technology).
Multimedia? Certo, l'abbiamo qui!
Breve video che illustra la conversione da elettronvolt a joule e viceversa. Credito: Riaz Abdulla.
[/lang_it]