Monday, February 16th, 2009
[lang_en]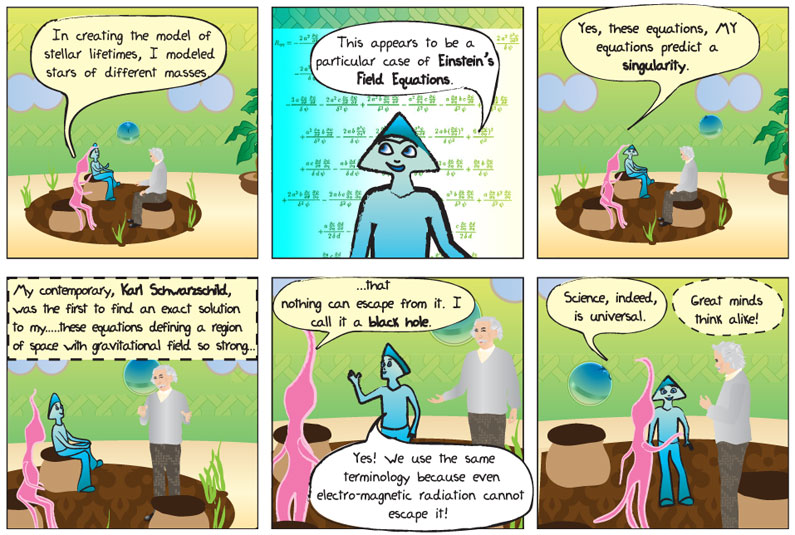 What does it mean?
Einstein's Field Equation – describes gravity as the curvature of space-time dependent on the mass that exists in it.
Singularity – In this context, singularity is a place in space where mass density and gravitational force become infinite.
Black Hole – A region of space within which the force of gravity (space-time curvature) is so strong that nothing, not even light, can escape from it.
In human speak please!
Contrary to popular belief, black holes do not suck in things like a vacuum cleaner. If our Sun were to suddenly turn into a black hole, all the planets will continue orbiting it in exactly the same paths they currently follow. Of course, we would lose our source of light and heat, ending life as we know it.
Doctor Who?
Karl Schwarzschild (October 9, 1873 – May 11, 1916), a German scientist who did important work in the physics of photography as well as formulated the first exact solutions to Einstein's General Relativity equations. He was fighting in World War I when he mailed Einstein his paper, which predicted the existence of black holes. Schwarzschild died of illness, not injury, a few months later without ever realizing the impact that his paper would have on the physics and astronomy communities.
Is that all?
Black Hole Rescue! – In this online game, you must rescue words, one letter at a time, before they are pulled in by the powerful gravity of the black hole. Also available in Spanish.
Fermi Black Hole Resource Area – Several online resources for students in all age groups.
Karl Schwarzschild – Biography of Karl Schwarzschild.
[/lang_en][lang_es]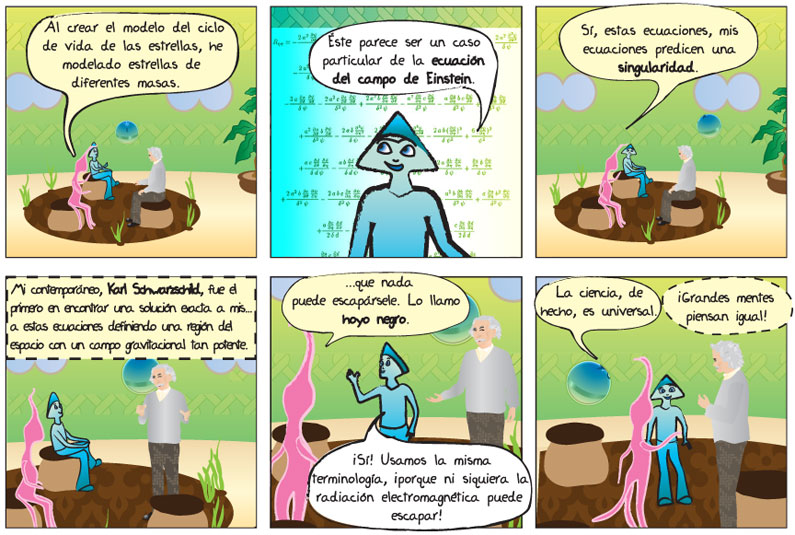 ¿Qué significa eso?
Ecuación del campo de Einstein – Describe a la gravedad como la curvatura del espacio-tiempo que depende de la masa que existe en el mismo.
Singularidad – Dentro de este contexto, una singularidad es un lugar en el espacio donde la densidad de la región y la fuerza gravitatoria se vuelven infinitos.
Hoyo negro – Es una región en el espacio dentro de la cual la fuerza de gravedad, o curvatura del espacio temporal, es tan fuerte que anda, ni siquiera la luz, puede escapar de ella.
¡En nuestra lengua por favor!
Contrario a la creencia popular, los hoyos negros no se comen las cosas como una gran aspiradora. Si en un instante nuestro Sol se convirtiera en un hoyo negro todos los planetas continuarían orbitando a su alrededor siguiendo las mismas trayectorias que siguen ahora. Claro que perderíamos nuestra fuente de luz y calor lo que terminaría con la forma de vida cómo la conocemos.
¿Qué doctor?
Karl Schwarzschild (n. 9 de octubre de 1873 – 11 de mayo de 1916) es un científico alemán que logró grandes avances en la física de la fotografía y que formuló las primeras soluciones exactas para las ecuaciones de la Relatividad General de Einstein. Mientras peleaba en la Primera Guerra Mundial le envió por correo su artículo científico a Einstein, en dónde predecía la existencia de los hoyos negros. Schwarzschild murió de una enfermedad no por una herida unos meses después sin saber del impacto que su artículo tuvo en las comunidades científicas de la física y la astronomía.
¿Eso es todo?
¡Rescate del agujero negro! – Es la página de un juego en línea donde el jugador debe rescatar palabras, una letra a la vez, antes de que sean atraídas por el potente campo gravitacional del hoyo negro. También está disponible en inglés.
Fermi Black Hole Resource Area – Contiene varios recursos en línea para estudiantes de todas edades.
Karl Schwarzschild – Presenta la biografía de Karl Schwarzschild.
[/lang_es][lang_fr]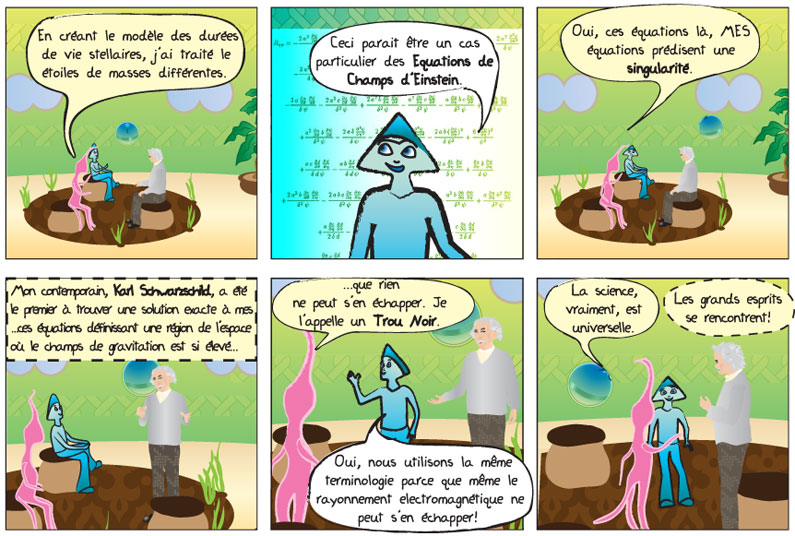 Qu'est ce que cela signifie?
L'équation de champ d'Einstein – décrit la gravité comme étant la courbure de l'espace-temps en fonction de la masse qu'il contient.
Singularité – dans ce contexte, une singularité est un endroit dans l'espace où la densité de la masse et la force de la gravité deviennent infinies.
Trou noir – une région de l'espace dans laquelle la force de la gravité (courbure d'espace-temps) est si forte que rien, ni même la lumière, ne peut s' en échapper.
En langage courant!
Contrairement aux croyances populaires, les trous noirs n'avalent pas les choses comme un aspirateur. Si notre Soleil se transformait soudainement en trou noir, toutes les planètes continueraient à tourner exactement de la même façon qu'elles le font actuellement. Naturellement, nous perdrions notre source de lumière et de chaleur, exterminant ainsi la vie sur Terre.
Docteur qui?
Karl Schwarzschild (9 octobre 1873 -11 mai 1916), un scientifique Allemand qui a effectué un travail important dans le domaine de la physique de la photographie et qui a énoncé les premières solutions exactes aux équations de la relativité générale d'Einstein. Il était soldat pendant la Première Guerre Mondiale quand il a envoyé par courrier à Einstein son manuscrit qui prévoyait l'existence des trous noirs. Schwarzschild est mort quelques mois plus tard d'une maladie, et non de blessures de guerre, sans jamais réaliser l'impact que son manuscrit a eu sur les communautés de physique et d'astronomie.
C'est tout?
Karl Schwarzschild (Lien français) – Biographie de Karl Schwarzschild.
Black Hole Rescue! – Dans ce jeu sur Internet, vous devez sauver des mots, une lettre à la fois, avant qu'ils soient attirés par la gravité puissante du trou noir. Aussi disponible en Espagnol.
Fermi Black Hole Resource Area – Plusieurs ressources en ligne pour élèves de tous âges.
[/lang_fr][lang_it]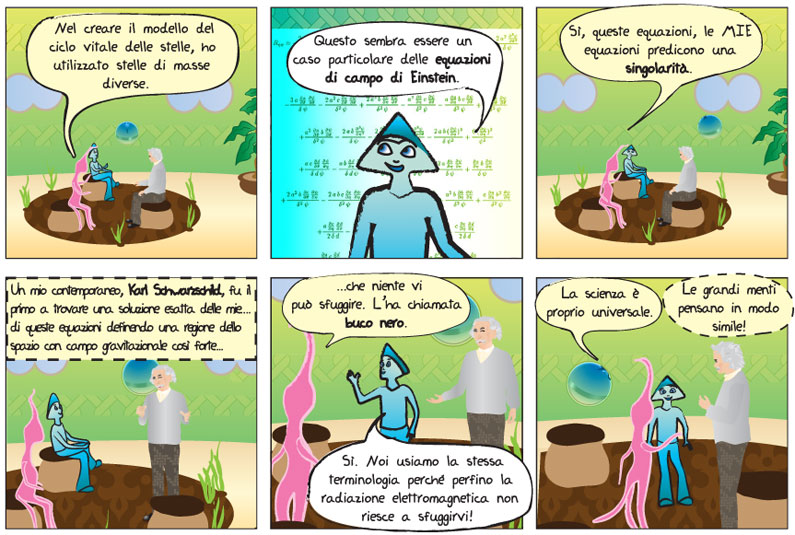 Cosa significa?
Equazione di campo di Einstein – Descrive la gravità come curvatura dello spazio-tempo causata dalla presenza di massa.
Singolarità – In questo contesto, una singolarità è una regione dello spazio in cui la densità di massa e la forza gravitazionale diventano infinite.
Buco nero – E' una regione dello spazio all'interno della quale la forza di gravità (curvatura dello spazio-tempo) è così forte che niente, nemmeno la luce, può sfuggirvi.
Nella nostra lingua per favore!
Contrariamente alla credenza popolare, un buco nero non risucchia le cose come un aspirapolvere. Se il nostro Sole si trasformasse improvvisamente in un buco nero tutti i pianeti continuerebbero ad orbitargli attorno nello stesso modo in cui fanno adesso. Naturalmente noi perderemmo la nostra fonte di luce e di calore, necessaria per la vita sulla terra.
Dottor Chi?
Karl Schwarzschild (9 Ottobre 1873 – 11 Maggio 1916), scienziato tedesco, che legò il proprio nome all'astrofisica moderna effettuando diversi studi su modelli teorici di atmosfere stellari grazie alla scoperta dell'effetto fotografico che porta il suo nome. Egli formulò per primo la soluzione esatta delle equazioni di Einstein della Relatività Generale. Era combattente sul fronte russo, nella prima Guerra Mondiale, quando mandò un articolo ad Einstein nel quale presentava la prima soluzione esatta di quelle equazioni. e prediceva l'esistenza dei buchi neri. Schwarzschild si ammalò gravemente e morì pochi mesi dopo senza sapere l'impatto che il suo articolo ebbe all'interno della comunità dei fisici e degli astronomi.
E' tutto?
I Buchi Neri – Un approfondimento sui buchi neri e la loro origine.
Black Hole Rescue! – E' un gioco online, dove si devono salvare delle parole, una lettera per volta, prima che siano attirate dalla forza di gravità di un buco nero. Disponibile anche in Spagnolo.
Fermi Black Hole Resource Area – La pagina web di Fermi sui Buchi Neri. Per studenti di tutte le età.
Karl Schwarzschild – Biografia di Karl Schwarzschild.
[/lang_it]