Eposode 1: In the beginning…|Eposodio 1: Al principio…|Eposode 1: Au début…|Eposodio 1: All'inizio…
[lang_en]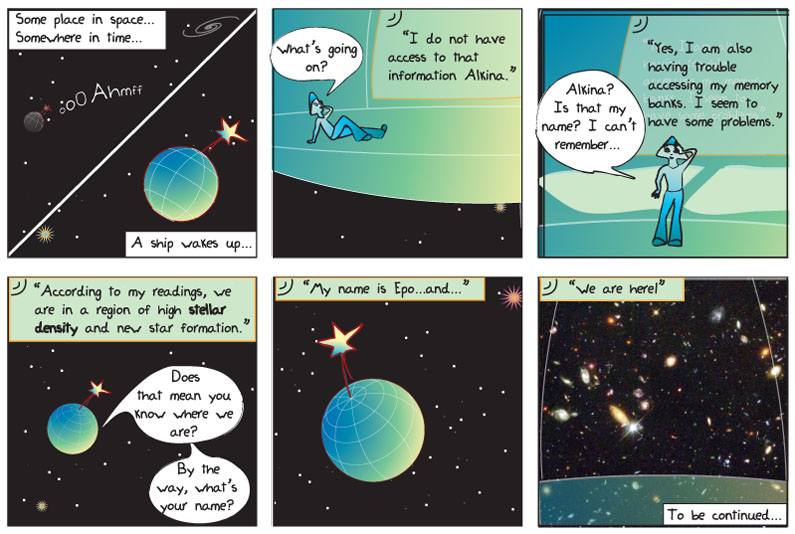 Show Transcript
Comic Transcript
Panel 1.
Narrator: Some place in space… Somewhere in time…A ship wakes up…
Panel 2.
Alkina: What's going on?
Epo: I do not have access to that information, Alkina.
Panel 3.
Alkina: Alkina? Is that my name? I can't remember…
Epo: Yes, I am also having trouble accessing my memory banks. I seem to have some problems.
Panel 4.
Epo: According to my readings, we are in a region of high stellar density and new star formation.
Alkina: Does that mean you know where we are? By the way, what's your name?
Panel 5.
Epo: My name is Epo…and…
Panel 6.
[Showing image of galaxies.]
Epo: We are here!
Narrator: To be continued…
Hide Transcript
Welcome!
Join Epo and Alkina on a journey of discovery through space as they try to figure out their origins and learn about the universe they live in.
What does it mean?
Stellar Density – The number of stars that exist within a given region of space.
[/lang_en][lang_es]
Un nuevo episodio cada lunes!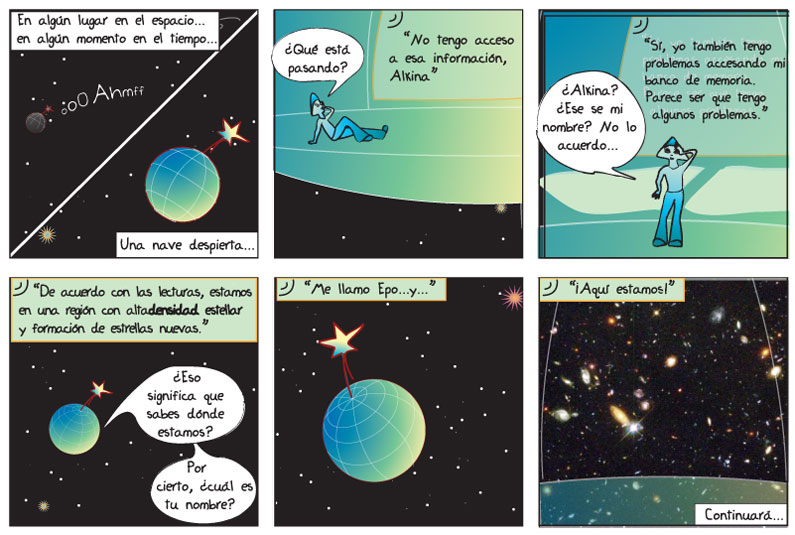 Mostrar la transcripción
Transcripción de Comic
Pánel 1.
Narrador: En algún lugar en el espacio…en algún momento en el tiempo…
Una nave despierta…
Pánel 2.
Alkina: ¿Qué está pasando?
Epo: No tengo acceso a esa información, Alkina.
Pánel 3.
Alkina: ¿Alkina? ¿Ese se mi nombre? No lo acuerdo…
Epo: Sí, yo también tengo problemas accesando mibanco de memoria. Parece ser que tengo algunos problemas.
Pánel 4.
Epo: De acuerdo con las lecturas, estamos en una región con altadensidad estellar y formación de estrellas nuevas.
Alkina: ¿Eso significa que sabes dónde esta Por cierto, ¿cuál es tu nombre?
Pánel 5.
Epo: Me llamo Epo…y…
Pánel 6.
Ep: ¡Aquí estamos!
Narrador: Continuará…
Esconder transcripción
¡Bienvenidos!
Únete a Epo y Alkina en su viaje a través del espacio conforme tratan de descubrir sus orígenes y de aprender sobre el universo en el que viven.
¿Qué significa eso?
Densidad estelar – el número de estrellas que existen en una región determinada del espacio.
[/lang_es][lang_fr]
Nouvel épisode chaque lundi!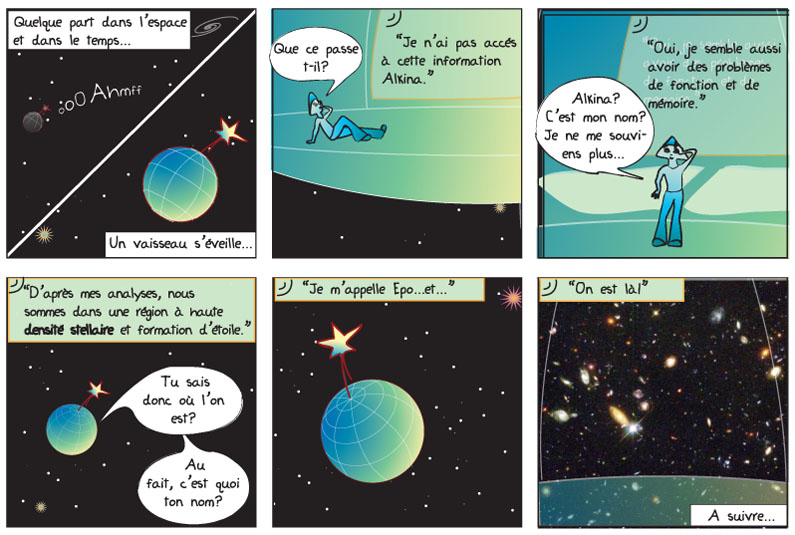 Montrer la transcription
Transcription comique
Panel 1.
Narrateur: Quelque part dans l'espace et dans le temps… Un vaisseau s'éveille…
Panel 2.
Alkina: Que ce passe t-il?
Epo: Je n'ai pas accés à cette information Alkina.
Panel 3.
Alkina: Alkina? C'est mon nom? Je ne me souviens plus…
Epo: Oui, je semble aussiavoir des problèmes de fonction et de mémoire.
Panel 4.
Epo: D'après mes analyses, nous sommes dans une région à haute densité stellaire et formation d'étoile.
Alkina: Tu sais donc où l'on est? Au fait, c'est quoi ton nom?
Panel 5.
Epo: Je m'appelle Epo…et…
Panel 6.
Epo: On est là!
Narrateur: A suivre…
Masquer la transcription
Bienvenue!
Joignez Epo et Alkina dans un voyage de découverte à travers l'espace, à la recherche de leurs origines et de celle de l'univers.
Qu'est ce que cela signifie?
Densité Stéllaire – le nombre d'étoiles qui existent dans une région donnée de l'espace.
[/lang_fr][lang_it]
Un nuovo episodio ogni Lunedi!
Mostra la trascrizione
Trascrizione del fumetto
Quadro 1.
Narratore: In qualche luogo nello spazio… In qualche istante nel tempo…
Un'astronave si sveglia…
Quadro 2.
Alkina: Che cosa succede?
Epo: Non ho alcun accesso a questa informazione Alkina.
Quadro 3.
Alkina: Alkina? E questo il mio nome? Non ricordo…
Epo: Si. Anch'io fatico ad accedere ai miei banchi di memoria. Sembra che ci siano dei problemi.
Quadro 4.
Epo: Secondo i miei dati, siamo in una regione di alta densità stellare e di formazione di nuove stelle.
Alkina: Questo significa che sai dove siamo? A proposito come ti chiami?
Quadro 5.
Epo: il mio nome è EPO…e…
Quadro 6.
Epo: Noi siamo qui!
Narratore: Continua…
Nascondere la trascrizione
Benvenuto!
Unisciti a Epo ed Alkina in un viaggio di scoperta attraverso lo spazio alla ricerca delle loro origini e di quelle dell'universo.
Cosa significa?
Densità Stellare – Il numero di stelle presenti in una data regione dello spazio.
[/lang_it]