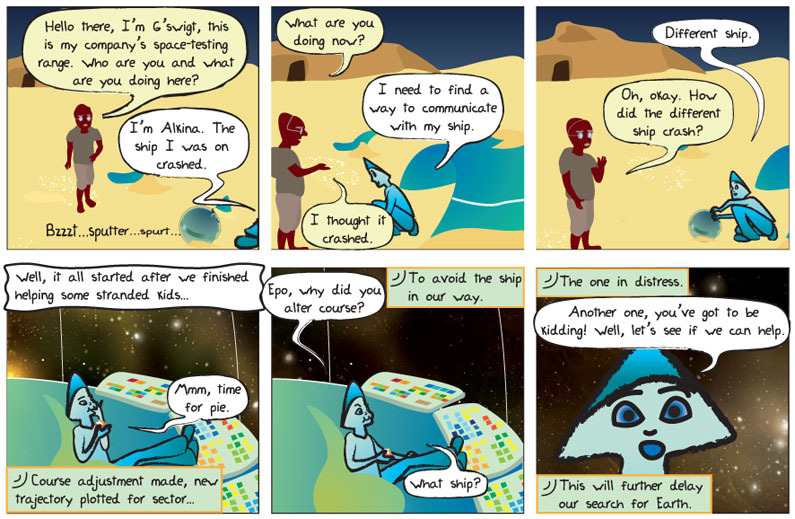 Comic Transcript
Panel 1
[Alkina stands among wreckage, holding RIA, as G'swigt approaches]
G'SWIGT: Hello there, I'm G'swigt, this is my company's space-testing range. Who are you and what are you doing here?
ALKINA: I'm Alkina. The ship I was on crashed.
RIA: Bzzzt, sputter, spurt
Panel 2
G'SWIGT: What are you doing now?
ALKINA: I need to find a way to communicate with my ship.
G'SWIGT: I thought it crashed.
Panel 3
ALKINA: Different ship.
G'SWIGT: Oh, okay. How did the different ship crash?
Panel 4
[Flashback to Epo flying away from the school bus ship]
ALKINA-NARATION: Well, it all started after we finished helping some stranded kids…
ALKINA: Mmm, time for pie.
EPO: Course adjustment made, new trajectory plotted for sector…
Panel 5
ALKINA: Epo, why did you alter course?
EPO: To avoid the ship in our way.
ALKINA: What ship?
Panel 6
EPO: The one in distress.
ALKINA: Another one, you've got to be kidding! Well, let's see if we can help.
EPO: This will further delay our search for Earth.
Hide Transcript