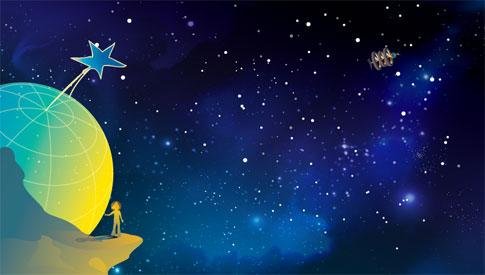 An audio play of Epo's Chronicles was created for 365DaysOfAstronomy.org in celebration of the International Year of Astronomy.
Below is the audio play, along with credits and a transcript. We hope you enjoy it.
Podcaster: Kamal S. Prasad, Tifani Rae, Kevin John, and Logan Hill
Description: This is a special audio play of Epo's Chronicles, a weekly web-comic series about Epo, a sentient spaceship in the future and its humanoid companion, Alkina. They travel the galaxy trying to determine their origins while learning science along the way. The audio play contains music (licensed under Creative Commons) from Softpace (http://www.jamendo.com/en/artist/softspace) and sound effects from http://www.soundsnap.com. Written by Kamal S. Prasad.
Transcript:
EPO'S CHRONICLES AUDIO PLAY FOR 365DAYSOFASTRONOMY.COM FOR
THE INTERNATIONAL YEAR OF ASTRONOMY
Introduction
MUSIC: SOMETHING SPACEY… FADES
NARRATOR
Lost in the Milky Way galaxy with no recollection of what happened. Two companions must work together to discover their origins! Will they ever find their way home? Will the cause of their memory loss be revealed? Join them on a cosmic voyage of discovery. Learn about the universe in which we live.
MUSIC: SOMETHING SPACEY CONTINUES… FADES OUT
Inside Epo
SOUND: SOFT HUM LIKE ON STAR TREK ENTERPRISE WITH PINGING
SOUND: KEYBOARD TAPPING
ALKINA
Epo, have you cross referenced the locations we have been to with those in your database?
EPO
Yes, Alkina.
ALKINA
Well, does it give us any indication as to the location of Earth?
EPO
No. I should remind you, although priority is given to the Earth database in my memory banks, there is no evidence that it is our origin.
ALKINA
Given my amnesia and your corrupted database, we have no idea what our mission is or was. Right now, finding Earth is the only logical thing to do. If we find something else that clarifies our situa…
SOUND: ALERT
ALKINA
What is that?
EPO
My, always active, sensors have picked up a nearby planet with a rich oxygen atmosphere. Oxygen is a highly reactive substance. In order for free oxygen molecules to exist in a planet's atmosphere, it has to be continuously created, usually by photosynthesis.
ALKINA
Epo, you have a bad habit of giving me information I already know and not providing information that I need. Why is this alert significant?
EPO
One of my core directives is to scout out habitable planets.
ALKINA
Why didn't you tell me this before?
EPO
You did not ask.
SOUND: COMPUTER GENERATED SWOOSHING SOUND
EPO
Adjusting course to intercept the planet.
ALKINA
You make it sound like we are going to war with it.
EPO
Entering standard orbit around planet. There appears to be a non-industrialized civilization inhabiting the planet.
SOUND: FAINT BEEPING
ALKINA
What is that sound?
EPO
It appears to be a weak electromagnetic signal. It is totally incoherent and unintelligible.
ALKINA
Perhaps your translation matrix is unable to interpret what the signal means.
EPO
Given that there is no telecommunication or basic electric network on the surface it is doubtful that the signal has any meaning.
ALKINA
We should investigate it further. Please bring us in closer to source of the signal.
SOUND: SPACECRAFT ENTERING PLANETARY ATMOSPHERE
EPO
There is someone coming out of the large building that is the source of the signal. (pause) They have detected us.
ALKINA
Land at a safe distance from the individual.
SOUND: LANDING
On the ground
SOUND: SLIDING DOOR OPENING
LEOGALI (UNSURPRISED)
Ah! A creature from another part of the universe.
ALKINA
You do not seemed surprised. My name is Alkina. Have you met other beings not from your planet?
LEOGALI
No. But given the vastness of space, there are bound to be other life forms out there as your presence here proves. (pause) My name is Leogali. It is very nice to meet you. Now I have to get back to work.
ALKINA (SURPRISED)
Aren't you curious about where we are from and what we are doing here?
LEOGALI
Not really. I am in the middle of a personal project. You are welcome to observe, if you like.
ALKINA
I would like that very much. Epo, please release Ria.
SOUND: ROBOTIC SOUND
LEOGALI
What is that?
ALKINA
It is a remote interactive avatar. I call it Ria for short. It allows me to keep in touch with my ship, Epo, in places Epo cannot go.
LEOGALI
I see. (pause) Ready? This way please.
SOUND: WALKING
SOUND: DOOR OPENING
INSIDE LEOGALI'S HOUSE
RIA
(SOUNDS EXACTLY LIKE EPO)
First, can we please turn of that nonsensical beeping?
ALKINA
I am sorry but we found you via a faint electromagnetic signal coming from this house.
LEOGALI
A faint electro what?
RIA
Here it is.
LEOGALI
Oh that. I was just playing with my toys. It doesn't do anything.
ALKINA
Right, you do not have an amplifier hooked up to this thing. May I turn it off?
LEOGALI
Go ahead.
SOUND: CLICK
RIA
That's better.
LEOGALI
Here is what I was talking about. I call it a long distance magnifier.
ALKINA
Looks like a simple hand held telescope. Ria, scan it and let me know what you have about this design in your database.
RIA
It is a primitive design first perfected by Galileo Galilei of Earth.
LEOGALI
Ah, a fellow tinkerer? Where is he now?
RIA
Galileo Galilei lived on Earth from year 1564 until 1642. He was an Italian physicist, astronomer, mathematician and philosopher.
LEOGALI
Wow, he did a lot! I just like to tinker.
ALKINA
You do not use your inventions to learn new things?
LEOGALI
Why? It takes me a long time to build these things. Once they are working, I move on to building new things.
ALKINA
Interesting. What is your methodology for coming up with devices?
LEOGALI
What do you mean?
SOUND: RUNNING HANDS THROUGH MISCELLANEOUS METALLIC PIECES
LEOGALI
I play with the parts I have and see what fits together to make something interesting.
ALKINA
You do not use the scientific method?
LEOGALI
Scientific method?
ALKINA
Right. Ria, please explain the scientific method.
RIA
The scientific method is a series of logical steps one would take to answer a particular question. This process was popularized by Galileo, which is said to have started the scientific revolution on Earth.
LEOGALI
Dear! Dear! Revolution, huh? We cannot have any uprising of that sort here.
ALKINA
It was not an uprising. Rather, it was a new way of thinking that brought about many beneficial changes to the people of Earth. Rather than relying on observation alone, the scientific method encourages experimentation and prediction to determine whether a hypothesis made using observations is correct.
LEOGALI
Hmmm… having a specific procedure for figuring things out would be helpful.
ALKINA
Of course. Using the scientific method, Galileo showed that objects of different masses fall at the same rate in a gravitational field provided there are no external forces acting on the objects. And, using his telescope, Galileo observed that a planet in his solar system, called Venus, was illuminated differently by the star it was orbiting, at different times of the year.
LEOGALI
Of course it would! Planets orbit the parent star in a solar system.
ALKINA
This was not always known to the people of Earth. Galileo helped prove it with his observations and predictions about the movement of celestial bodies.
LEOGALI
I am convinced. Using the scientific method will help me stream line my work and allow me to build better things faster. Thanks!
RIA
Alkina, I have gathered the information I need about this planet. There is nothing here to help us in our search for Earth. We should move along.
ALKINA
Right. Leogali, thank you for your time. All the best with your inventions.
LEOGALI
Thanks for dropping by. Maybe we will see each other again.
ALKINA
Goodbye.
LEOGALI
Goodbye.
End of audio play.