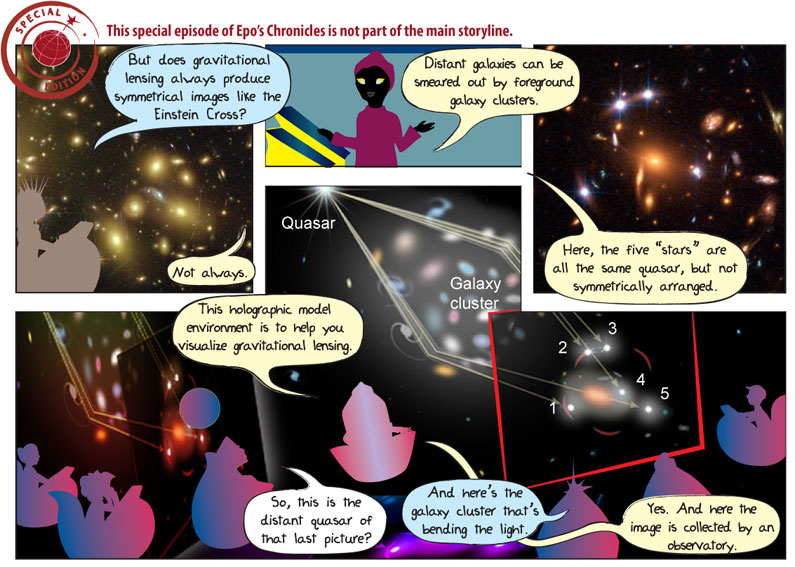 Comic Transcript
Panel 1.
Entoz: But does gravitational lensing always produce symmetrical images like the Einstein Cross?
Teacher: Not always.
Panel 2.
Teacher: Distant galaxies can be smeared out by foreground galaxy clusters.
Panel 3.
Teacher: Here, the five "stars" are all the same quasar, but they are not symmetrically arranged.
Panel 4.
Teacher: This holographic model environment is to help you visualize gravitational lensing.
Alkina: So, this is the distant quasar of that last picture?
Entoz: And here's the galaxy cluster that's bending the light.
Teacher: Yes. And here the image is collected by an observatory.
In human speak please!
Not all gravitational lensing produces symmetrical images like in the case of the Einstein Cross. In many cases, gravitational lensing produces images of background objects that are messy and distorted, like looking through warped glass. Gravitational lenses are not shaped to optimize viewing like a pair of reading glasses. In fact, there is no material through which the light is passing to cause it to bend. The extreme mass of the galaxy, including its dark matter, is warping space-time itself and causing the light to bend. What would be a straight line from point A to point B is now a curved line due to the presence of the lensing galaxy. One of the tell tale signs that gravitational lensing is occurring is the presence of arcs that partially fill in a ring with the lensing galaxy at its center. Often the lensing galaxy itself is difficult to see.
The following Hubble graphic depicts how the gravitationally lensed five-quasar is created by the gravity of the foreground galaxy. Source: Hubble Site.