Monday, June 28th, 2010
[lang_en]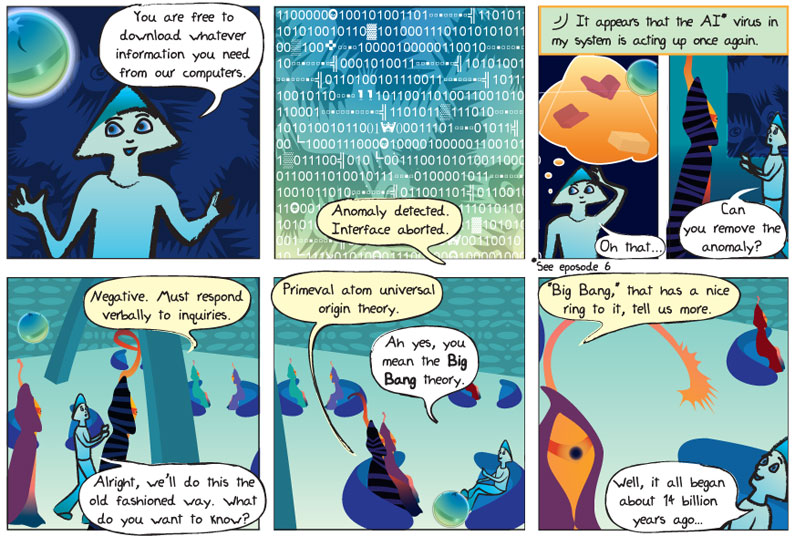 What does it mean?
Big Bang – This famous theory suggests that the Universe was not always as it is today, and that at one point everything was compressed down into an extremely small point of unimaginable heat and density. Then, in the most violent and energetic event ever to occur, the Universe began to expand and evolve into its present state. This rapid expansion was aptly named the "big bang."
In human speak please!
The idea of the Big Bang theory is actually quite recent as far as big ideas in cosmology go. Before it was proposed, most astronomers believed in a "steady state" Universe that did not change and has always existed in its current state. The Big Bang theory was first introduced in a paper by physicist Georges Lemaitre in 1927, however, he referred to it as the "primeval atom" theory.
The evidence that supported a finite beginning of the Universe was provided by astronomer Edwin Hubble, who observed that distant galaxies were moving away from each other. This means that some time in the past, all matter in the Universe must have existed in a small volume.
Another reason to rule out a steady state Universe is the fact that gravity would cause all matter in the Universe to collapse to a common center. Albert Einstein understood this prediction when he published his theory of gravity, General Relativity, in 1916. To fix the theory, Einstein added a repulsive term to his equations that counteracted gravity's attraction. He called this term the cosmological constant. A decade later when Hubble published his discovery that the Universe is expanding, Einstein realized his mistake: instead of adding an antigravity term to his theory, he could have predicted that the Universe expanded. That would have also given a stable solution to his equations. Einstein called this his life's "biggest blunder."
The cosmological constant was virtually abandoned for many decades after Hubble's announcement. Then, in 1998, two teams of astronomers working independently made the same discovery: not only is the Universe expanding, the rate of expansion is actually speeding up. This requires some sort of antigravity effect in the Universe. Maybe the cosmological constant is with us after all.
Ironically, the name "Big Bang" was given to the theory by Fred Hoyle, a major supporter of the steady state theory, in an attempt to discredit the new theory.
Is that all?
The Big Bang – The story of our Universe in five paragraphs.
[/lang_en][lang_es]
¡Un episodio nuevo cada lunes!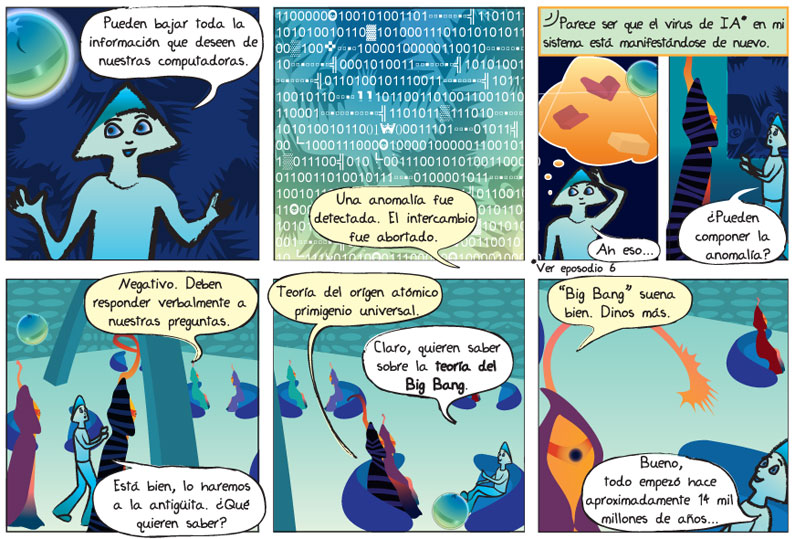 ¿Qué significa eso?
Big Bang – Es la teoría que sugiere que el Universo no ha sido siempre como es hoy en día, y que en algún momento todo estaba comprimido en un solo punto de inimaginable alta densidad y temperatura. Luego, en el evento más violento y energético que jamás ha occurido, el Universo comenzó a expanderse y a desarrollarse en lo que hoy conocemos. Esta rápida expansión es llamada el "Big Bang".
¡En nuestra lengua por favor!
La idea de la teoría del Big Bang es algo reciente en comparación a otras grandes ideas cosmólogicas. Antes de que fuese propuesta, la mayoría de los astrónomos creían en un Universo que se encontraba en un "estado estable", el cual no cambiaba y siempre había existido en su estado actual. La teoría del Big Bang fue introducida por el físico Georges Lemaitre en 1927, y se refirió a ella como la teoría del "átomo primigenio".
La evidencia que sostiene que el Universo tiene un inicio concreto fue descubierta por Edwin Hubble, quien observó que las galaxias más distantes estaban alejándose unas de las otras. Esto significa que en algún momento en el pasado, toda la materia del Universo tuvo que existir en un pequeño volumen.
Otra de las razones por la cual la teoría de un Universo estático no funciona es que la gravedad causaría el colapso de todo el Universo a un centro común de gravedad. Albert Einstein entendía esta implicación de su teoría de gravedad, sobre la Relatividad General, en 1916. Para arreglar su teoría, Einstein agregó un término de repulsión a sus ecuaciones para contrarrestar el efecto de atracción de la gravedad. Llamó a este término la constante cosmológica. Una década después, cuando Hubble publicó su descubrimiento que el Universo estaba expandiéndose, Einstein se dio cuenta de su error: en lugar de agregar un término de antigravedad a su teoría, podría haber predicho que el Universo estaba expandiéndose. Eso hubiera hecho que sus ecuaciones tuvieran una solución estable. Einstein lo llamó el error más grande de su vida.
La constante cosmológica fue abandonada durante muchas décadas después del descubrimiento de Hubble. En 1998, dos grupos de astrónomos que trabajaban independientemente hicieron el mismo descubrimiento: el Universo no sólo se expandía, pero la expansión se está accelerando. Esto requiere algún tipo de efecto antigravitacional en el Universo. Quizá la constante cosmológica si exista.
Irónicamente, el nombre de Big Bang fue dada a la teoría por Fred Hoyle, uno de los principales defensores de la teoría del Universo estático, en un esfuerzo de desacreditar la nueva teoría.
¿Eso es todo?
The Big Bang – Esta página en inglés presenta la historia de nuestro Universo en cinco párrafos.
[/lang_es][lang_fr]
Nouvel épisode chaque lundi!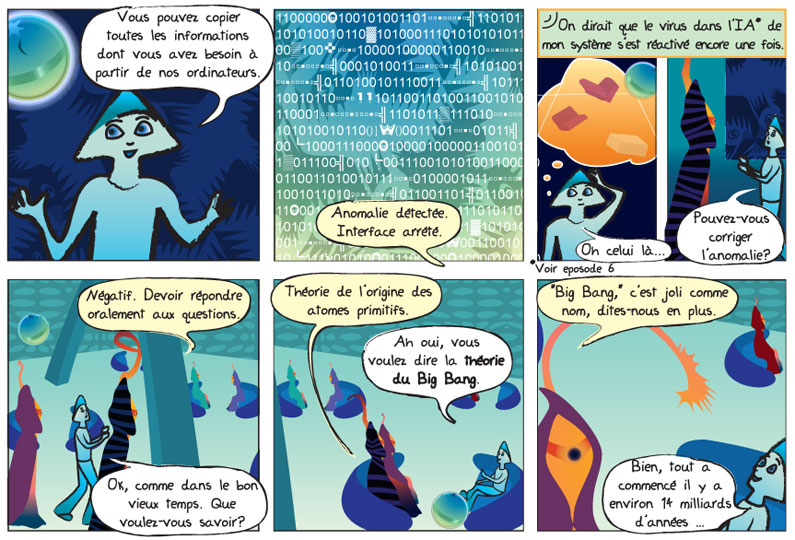 Qu'est ce que cela signifie?
Big Bang – Cette théorie célèbre suggère que l'Univers n'a pas toujours existé comme on le connait aujourd'hui, et qu'à une époque tout devait être comprimé en un point extrêmement petit, chaud et dense. Puis, au cours du phénomène le plus violent et le plus énergique qui se soit jamais produit, l'univers a explosé, a commencé à augmenter de volume et à se transformer en son état actuel. Cette explosion a ainsi été nommée le "Big Bang."
En langage courant!
L'idée de la théorie du Big Bang est assez récente parmi celles qui concernent les grandes notions sur la cosmologie. Avant d'être proposée, la plupart des astronomes croyaient en un Univers « en état statique » ayant toujours existé dans son état actuel sans changement. La théorie du Big Bang a été présentée pour la première fois en 1927 par le physicien Georges Lemaitre. Cependant, ce dernier parlait de cette théorie sous le nom « d'atome primitif ».
La preuve qui soutient un commencement fini de l'Univers a été fournie par l'astronome Edwin Hubble, qui observa que les galaxies lointaines s'éloignaient les unes des autres. Cela veut dire qu'à une certaine période dans le passé, toute la matière de l'Univers devait être contenue en un tout petit volume.
La force de gravité est une autre raison qui élimine un Univers statique; en effet, celle-ci ferait s'effondrer tout l'Univers en un centre commun. Albert Einstein compris cette prédiction quand il exposa sa théorie de la relativité générale sur la gravitation, en 1916. Pour ajuster sa théorie, Einstein ajouta une "constante répulsive" à ses équations pour déjouer l'attraction de la gravité, appelé la constante cosmologique. Une décennie plus tard quand Hubble édita sa découverte de l'expansion de l'Univers, Einstein réalisa son erreur: au lieu d'ajouter une constante anti-gravité à sa théorie, il aurait du prévoir que l'Univers augmentait. Cela aurait également donné une solution stable à ses équations. Einstein a appelé ceci la plus grande bêtise de sa vie.
La constante cosmologique a été pratiquement abandonnée pendant plusieurs décennies après l'annonce de Hubble. Puis, en 1998, deux équipes d'astronomes travaillant indépendamment ont fait la même découverte: non seulement l'Univers s'étend, mais le taux d'expansion s'accélère réellement. Ceci implique une sorte d'effet anti-gravité dans l'Univers. Peut-être la constante cosmologique existe t-elle après tout.
Ironiquement, le nom « Big Bang » a été donné à la théorie par Fred Hoyle, un grand défenseur de la théorie de l'Univers statique, afin d'essayer de critiquer la nouvelle théorie.
C'est tout?
The Big Bang – L'histoire de notre Univers en cinq paragraphes.
[/lang_fr][lang_it]
Un nuovo episodio ogni Lunedi!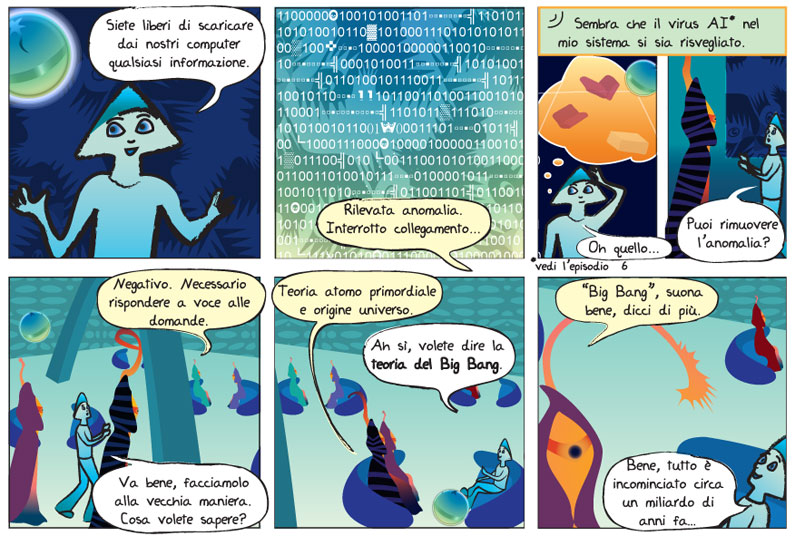 Cosa significa?
Big Bang – E' la famosa teoria che suggerisce che l'Universo non è sempre stato come lo vediamo oggi, ma che a un certo momento tutto era compresso in un piccolo punto di calore e densità inimmaginabile. Allora si verificò l'evento più violento ed energetico mai avvenuto e l'Universo cominciò a espandersi ed evolversi fino allo stato attuale. Questa rapida esplosione prende il nome di "big bang".
Nella nostra lingua per favore!
La teoria del Big Bang è abbastanza recente. In precedenza gli astronomi avevano ipotizzato un Universo "stazionario", che non cambiava e da sempre esisteva nello stato attuale. La teoria del Big Bang fu introdotta per la prima volta dal fisico Georges Lemaitre in un articolo del 1927, sebbene lui la definisse la teoria dell'atomo primordiale.
L'evidenza di un momento iniziale dell'Universo venne fornita dall'astronomo Edwin Hubble che osservò che le galassie distanti si stanno allontanando le une dalle altre. Questo significa che in un tempo remoto tutta la materia nell'Universo doveva essere concentrata in un piccolo volume.
Un altro motivo che esclude un Universo stazionario è il fatto che la forza di gravità farebbe collassare tutta la materia dell'Universo in un centro comune. Albert Einstein capì questa predizione quando pubblicò la sua teoria della gravità, la Relatività Generale, nel 1916. Nella sua teoria Einstein aggiunse alle sue equazioni un termine repulsivo che controbilanciava l'attrazione di gravità. Egli chiamò questo termine, costante cosmologica. Un decennio dopo quando Hubble pubblicò la sua scoperta dell'Universo in espansione, Einstein si rese conto dell'errore: invece di aggiungere un termine antigravità alla sua teoria, avrebbe potuto prevedere l'espansione dell'Universo. Questo avrebbe anche fornito una soluzione stabile alle sue equazioni. Einstein considerò questo " il più grande errore" della sua vita.
Dopo l'annuncio di Hubble, la costante cosmologica fu virtualmente abbandonata per molti decenni. Poi, nel 1998, due gruppi di astronomi che lavoravano indipendentemente, fecero la stessa scoperta: non solo l'Universo si espande ma la velocità di espansione sta in realtà aumentando. Questa conclusione richiede una sorta di effetto antigravità nell'Universo. Dopo tutto, forse, la costante cosmologica è dalla nostra parte.
Ironicamente, il termine "Big Bang" fu dato alla teoria da Fred Hoyle, il principale sostenitore della teoria dello stato stazionario, nel tentativo di screditare la nuova teoria.
E' tutto?
The Big Bang – La storia del nostro Universo in breve.
[/lang_it]