Special Edition: Chandra X-ray Observatory|Edición especial: El observatorio de rayos X Chandra|Speciale Edition: Observatoire Rayon X Chandra|Edizione Speciale: L'Osservatorio per raggi X Chandra
[lang_en]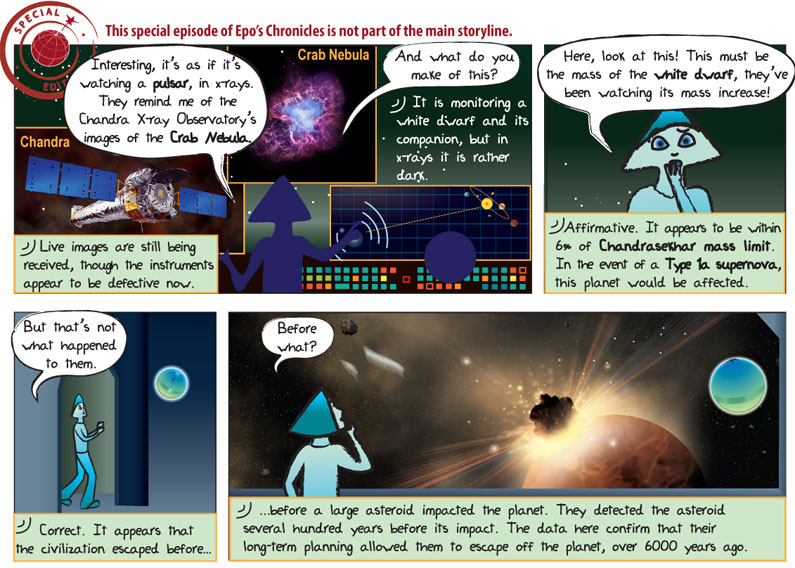 What does it mean?
Pulsar – A type of spinning magnetized neutron star that emits pulses of light like a lighthouse. Pulsars are thought to have small bright spots on their surface where the magnetic poles are. Only when these spots are visible do we see emission, so as the pulsar spins it looks to us like it is pulsing on and off, hence the name pulsar.
Crab Nebula – A supernova remnant (expanding cloud left after a supernova explosion) in the constellation Taurus. The supernova itself was recorded by Chinese and Arab astronomers in 1054 A.D.
White dwarf – After the outer layers of a red giant are expelled into space to form a planetary nebula, the remaining core of the star, composed of the ash from its nuclear burning stages, is so hot that it glows bluish-white. A white dwarf is about the size of Earth, but with nearly the mass of the sun. It therefore is very dense. If a white dwarf has a companion star it can gravitationally draw gas from that companion, increasing its own mass in the process.
Chandrasekhar mass limit – The upper mass limit of a white dwarf, approximately 1.4 solar masses. If a white dwarf exceeds this limit it will explode in a Type 1A supernova and may collapse to a neutron star.
Type 1A Supernova – A huge thermonuclear explosion resulting when certain white dwarf stars exceed the Chandrasekhar mass limit.
In human speak please!
The Chandra Observatory is one of NASA's "Great Observatory" missions. It is named for Subrahmanyan Chandrasekhar (1910 – 1995), an Indian astrophysicist, to honor his many contributions to science. Chandra was launched in July 1999 and continues to produce a wealth of data.
The observatory is responsible for the majority of the high resolution X-ray images of the Universe that we have today. Most recently Chandra has detected a galactic "super-volcano" in action within the galaxy M87.
Chandra has contributed to our understanding in many areas of the Universe, including dark matter, active galaxies, and x-ray emitting gas in galaxy clusters.
Is that all?
Chandra @ Harvard – Harvard's Chandra Observatory website.
Chandra @ NASA – NASA's Chandra Observatory website.
Multimedia? Yep, we've got it right here!
Animation and videos – Multimedia related to Chandra.
[/lang_en][lang_es]
¡Un episodio nuevo cada lunes!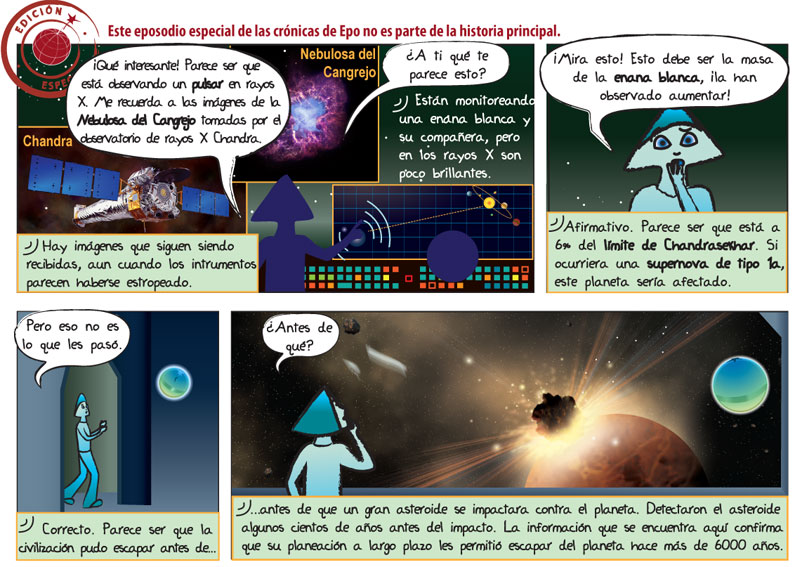 ¿Qué significa eso?
Pulsar – Es un tipo de estrella de neutrones magnetizada que está girando sobre su eje mientras emite un pulso de luz, como lo hace un faro. Se piensa que los pulsares tienen manchas brillantes en su superficie localizadas en sus polos magnéticos. Es solamente cuando estas manchas son visibles que vemos algo de emisión, de tal forma que mientras el pulsar gira sobre su eje nos parece que un pulso se prende y se apaga, que es de donde proviene su nombre.
Nebulosa del Cangrejo – Es la remanente de supernova, o sea la nube en expansión formada tras una explosión supernova, en la constelación de Tauro. Esta supernova fue observada por los astrónomos chinos y árabes en 1054 A.C.
Enana blanca – Es núcleo de una estrella que queda después de que las capas externas de una gigante roja han sido expulsadas hacia el espacio para formar una nebulosa planetaria. Una enana blanca está compuesta por las cenizas restantes de las etapas de combustión nuclear y es tan caliente que brilla de un color blanco-azulado. Si una enana blanca tiene una estrella compañera, puede atraer gravitacionalmente el gas de la compañera incrementando su propia masa por medio de este proceso.
Límite de Chandrasekhar – Es el límite superior de masa para una enana blanca, y es igual a aproximadamente 1.4 masas solares. Si una enana blanca excede este límite, explotaría como una supernova de tipo 1A y podría colapsarse a una estrella de neutrones.
Supernova de tipo 1A – Es la explosión termonuclear que resulta cuando una enana blanca excede el límite de masa de Chandrasehkar.
¡En nuestra lengua por favor!
El observatorio Chandra es una de las misiones de los "Grandes Observatorios" de la NASA. Es llamado en honor a Subrahmanyan Chandrasekhar (1910 – 1995), un astrófisico hindú, por sus muchas contribuciones a la ciencia. Chandra fue puesto en órbita en julio de 1999, y continúa a producir una gran cantidad de observaciones.
El observatorio es el responsable de la mayoría de las imágenes del Universo en rayos X de alta resolución que se tienen hoy en día. Más recientemente Chandra detectó un supervolcán galáctico dentro de la Galaxia M87.
Chandra ha contribuído a nuestro entendimiento de muchas de las áreas del Universo, como la materia oscura, las galaxias activas, y el gas que emite rayos X dentro de los cúmulos de galaxias.
¿Eso es todo?
Chandra @ Harvard – Ésta es la página de Harvard sobre el observatorio Chandra.
Chandra @ NASA – Ésta es la página de la NASA sobre el observatorio Chandra.
¿Multimedia? Sí, ¡aquí la tenemos!
Animation and videos -Esta página presenta animaciones y videos sobre Chandra.
[/lang_es][lang_fr]
Nouvel épisode chaque lundi!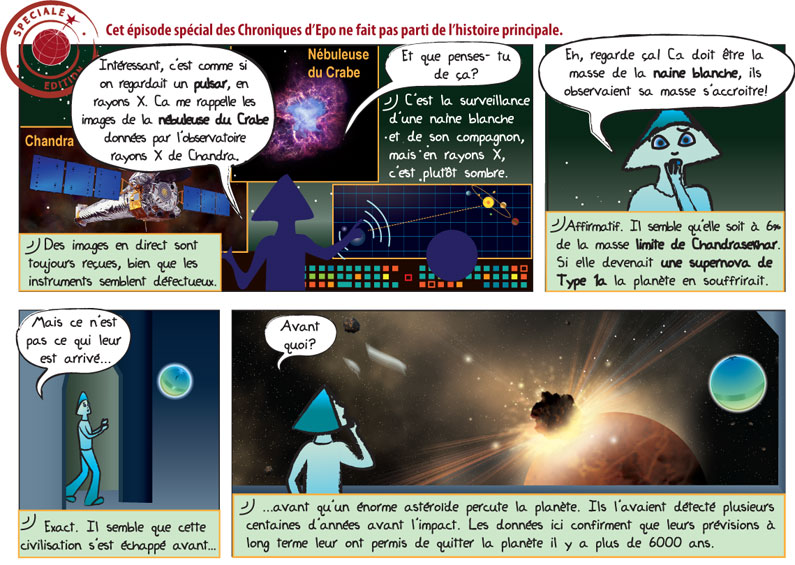 Qu'est ce que cela signifie?
Pulsar – Un type d'étoile à neutrons tournant très rapidement sur elle-même qui émet un faisceau de lumière tel un phare marin. Le pulsar est nommé ainsi car son faisceau nous parvient qu'une partie du temps, comme si il faisait marche-arrêt à répétition. L'étoile parait alors pulser.
Nébuleuse de crabe – un reste de supernova (nuage en expansion après une explosion de supernova) dans la constellation du Taureau. La supernova elle-même a été enregistrée par les astronomes chinois et arabes 1054 ans après J.C.
Naine blanche – une fois que les couches externes d'une géante rouge sont expulsées dans l'espace pour former une nébuleuse planétaire, le noyau de l'étoile restant est tellement chaud qu'il brille d'une lumière blanche. Une naine blanche est à peut prés de la taille de la Terre, mais a une masse semblable au Soleil, elle est donc très dense.
La masse de Chandrasekhar – la limite de masse maximale d'une naine blanche, approximativement 1.4 masse solaire. Si une naine blanche dépasse cette limite elle éclate en un type de supernova appelé 1A et peut s'effondrer sur elle même donnant une étoile à neutron.
Type supernova 1A – une énorme explosion thermonucléaire de certaines naines blanches qui dépassent la limite de masse de Chandrasekhar.
En langage courant!
L'observatoire de Chandra est l'une des missions « Grands Observatoires » de la NASA. Il fût nommé d'après l'astrophysicien indien Subrahmanyan Chandrasekhar (1910 – 1995), pour honorer ses multiples contributions à la science. Chandra a été lancé en juillet 1999 et continue d'envoyer une belle collection de données.
L'observatoire est responsable de la majorité des images de l'Univers en rayon X à haute résolution que nous possédons aujourd'hui. Récemment Chandra a détecté un « super-volcan » galactique actif dans la galaxie M87.
Chandra a contribué à nos connaissances dans beaucoup de secteurs de l'Univers, y compris la matière noire, les galaxies actives, et les gaz émettant des rayons X dans les amas de galaxies.
C'est tout?
Chandra @ Harvard – Site internet de l'observatoire de Chandra à Harvard.
Chandra @ NASA – Site internet de l'observatoire de Chandra de la NASA.
Multimédia? Nous avons ça ici!
Animation and videos – Multimédia sur Chandra.
[/lang_fr][lang_it]
Un nuovo episodio ogni Lunedi!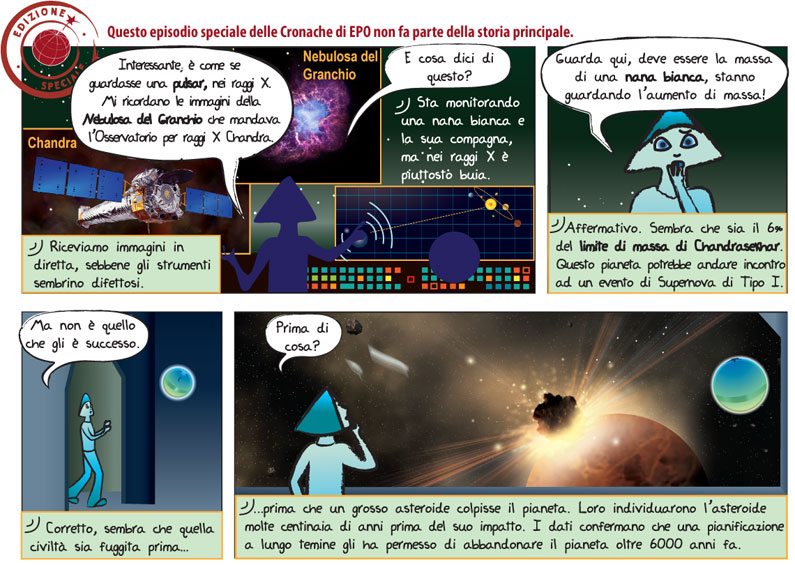 Cosa significa?
Pulsar – E' un tipo di stella ruotante che emette , come un faro cosmico, un fascio collimato di radiazione elettromagnetica. Si pensa che le Pulsar abbiano delle piccole zone luminose sulla superficie in corrispondenza dei poli magnetici. Solo quando queste zone sono visibili, osserviamo l'emissione, e poiché la pulsar ruota attorno al proprio asse ci appare pulsante, da cui il nome pulsar
Nebulosa del Granchio – E' il residuo di una supernova (cioè una nuvola di gas in espansione rimasta dall'esplosione di una supernova) nella costellazione del Toro. La supernova fu registrata dagli astronomi Cinesi e Arabi nel 1054.
Nana bianca – Dopo che gli strati esterni di una gigante rossa sono stati espulsi nello spazio a formare una nebulosa planetaria, il nucleo della stella, composto dai residui della combustione nucleare, è così caldo che risplende di una luce bianco-celeste. Una nana bianca ha circa le dimensioni della Terra, ma quasi la massa del Sole. E' perciò molto densa. Se una nana bianca ha una stella compagna può attirare a se, gravitazionalmente, della massa da quest'ultima e accrescere la sua massa attraverso questo processo.
Limite di massa di Chandrasekhar – E' il limite superiore della massa di una nana bianca, approssimativamente 1,4 masse solari. Se una nana bianca supera questo limite esplode in una supernova di Tipo 1A e può collassare in una stella di meutroni.
Supernova di Tipo 1A – E' una enorme esplosione termonucleare risultante quando una nana bianca supera il limite di massa di Chandrasekhar.
Nella nostra lingua per favore!
L'Osservatorio Chandra è un grande osservatorio orbitale della NASA. Porta il nome dell'astrofisico indiano Subrahmanyan Chandrasekhar (1910 – 1995), per onorarne gli importanti contributi scientifici. Chandra è stato lanciato nel Luglio del 1999 e continua a fornire una grande mole di dati. La maggior parte delle immagini ad alta risoluzione nei raggi X che abbiamo oggi dell'Universo sono state fornite da Chandra. Di recente Chandra ha rivelato un super-vulcano galattico in azione all'interno di M87. Chandra ha contribuito a migliorare notevolmente la nostra comprensione dell'Universo, aumentando la nostra conoscenza in diverse aree, come la materia oscura, le galassie attive, gli ammassi di galassie.
E' tutto?
Chandra @ Harvard – Il sito web dell'Osservatorio Chandra a Harvard.
Chandra @ NASA – Il sito web dell'Osservatorio Chandra alla NASA.
Multimedia? Certo, l'abbiamo qui!
Animation and videos – Alcuni video su Chandra.
[/lang_it]