Epo
sode

98: Verification|Epo

sodio

98: Verificación|Epo

sodio

98: Verification|Epo

sodio

98: La verifica

[lang_en]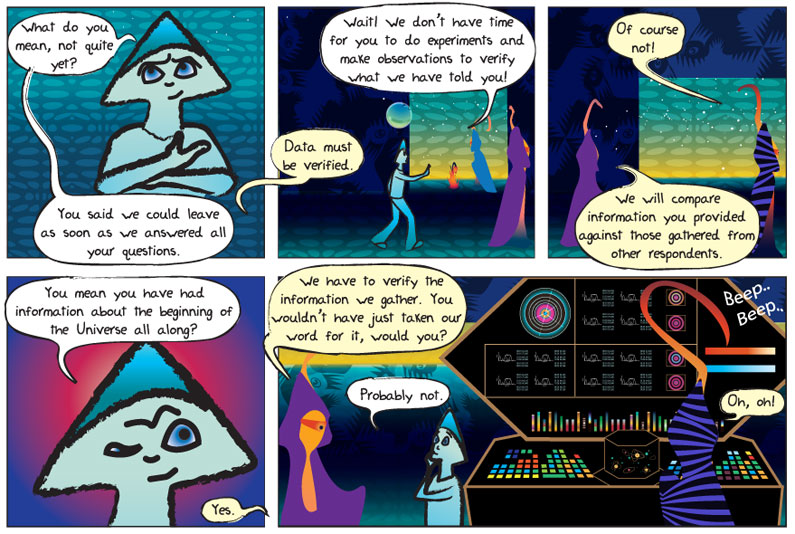 Is that all?
You're the Scientist – A classroom activity about verifying data collected by others.
Why do scientists publish results of their work in scientific journals?
Dude, where's my science?
A very important step in the scientific process is the verification of observations or data that are presented by someone. No matter how smart or famous a scientist is; if they make a scientific claim, it has to be verified by other scientists in order for it to be valid. It is not because scientists don't trust each other. There are many reasons to verify other scientists' assertions. The original investigator may have not accounted for all the variables that could have affected his or her conclusions. The original experiment or observation might conflict with another scientific theory, which must be reconciled. Some future experiment or observation might rely on the results of the current experiment or observation, and so on.
The aliens that Epo and Alkina have run into aren't making their own observations or doing their own experiments about the origin of the Universe, but they are smart enough to verify the information that they collect, even if it comes from a highly reliable source like Epo and Alkina. Sometimes conducting one's own experiments might not be possible because of costs or time involved. In these cases, comparing data from two different sources to make conclusions about a particular subject is also a valid way of testing a scientific theory.
For example, you might be asked to write a report on global climate change. You wouldn't just use one source of information to write your paper, would you? We hope not. While you cannot be expected to do your own experiments for a simple school report, your teacher will expect you to research the subject thoroughly, which means collecting information from several different reliable sources to write your report.
[/lang_en][lang_es]
¡Un episodio nuevo cada lunes!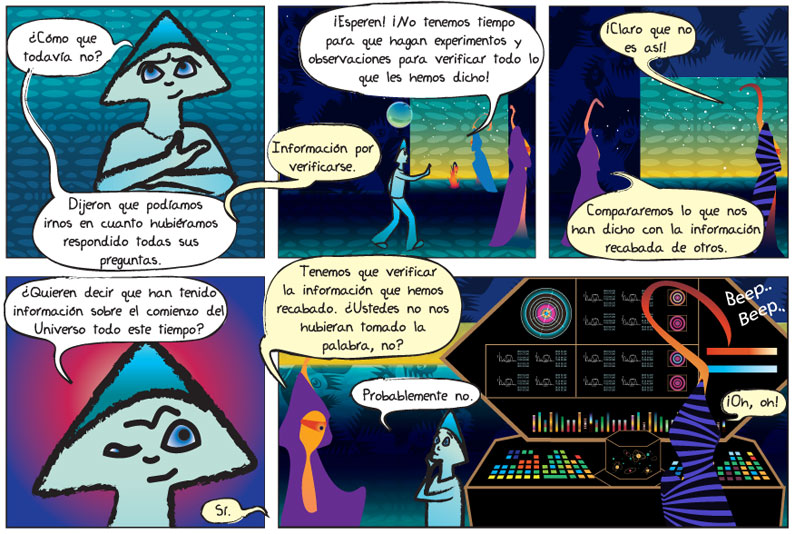 ¿Eso es todo?
You're the Scientist – Esta página contiene actividades para el salón de clases sobre verificar la información obtenida por otros.
Why do scientists publish results of their work in scientific journals? (Esta página explica porque los científicos publican los resultados de su trabajo en publicaciones científicas.)
Oye tío, ¿dónde quedó mi ciencia?
Un paso muy importante en el proceso científico es la verificación de las obserrvaciones o de la información recabada que es presentada por otra persona. No importa que tan inteligente o famoso sea un científico, si dicen un dato científico, éste tiene que ser verificado por otros científicos para que sea válido. No es porque los científicos no confían unos en otros. Hay muchas razones para verificar lo que dicen los demás científicos. La persona que originalmente hace la investigación puede que no haya tomado en cuenta todas las variables que afectan las conclusiones de su trabajo. El experimento original o las observaciones originales pueden no concordar con alguna otra teoría científica, y éstas tienen que reconciliarse. Algún experimento u observación futura puede que dependan del resultado del experimento u observación actual, entre otras.
Los alienígenas contra los que Epo y Alkina se han topado no están llevando a cabo sus propias observaciones o experimentos sobre el comienzo del Universo, pero saben que tienen que verificar la información recabada, aún si viene de una fuente confiable como Alkina y Epo. Algunas veces, hacer uno mismo los experimentos no es posible porque toma mucho tiempo o consume muchos recursos. En estos casos, comparando la información y los resultados de dos o más fuentes para llegar a tus propias conclusiones sobre un tema es una forma válida de probar una teoría científica.
Por ejemplo, si tienes que escribir un reporte sobre el calientamiento global. No podrías utilizar solamente una fuente de información para escribir el reporte, ¿verdad? Esperamos que no. Mientras que no ncecesariamente tienes que llevar acabo tus propios experimentos para un reporte de la escuela, tu maestra o maestro seguro espera que investigues el tema a fondo, lo que significa recolectar información de varias fuentes confiables para escribir tu reporte.
[/lang_es][lang_fr]
Nouvel épisode chaque lundi!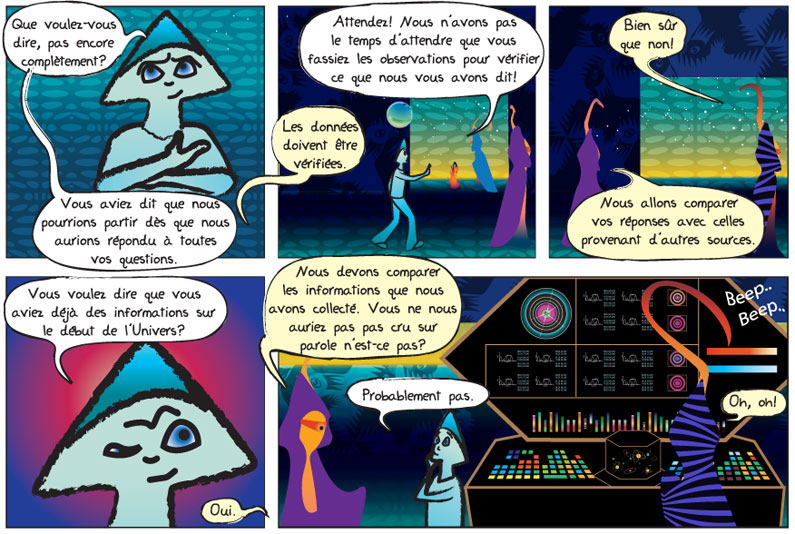 C'est tout?
You're the Scientist – Une activité de classe sur la vérification des données rassemblées par d'autres scientifiques.
Why do scientists publish results of their work in scientific journals? (Raison pour laquelle les scientifiques publient leurs résultats dans un journal scientifique.)
He, où est ma science?
Une étape très importante dans le processus scientifique est la vérification des observations ou des données qui sont présentées par quelqu'un. Peu importe le fait qu'un scientifique est beaucoup d'expérience ou soit célèbre; quand il introduit une théorie scientifique, elle doit être vérifiée par d'autres scientifiques pour être valide. Ce n'est pas parce que les scientifiques ne se font pas confiance! Il y a plusieurs raisons de vérifier les affirmations d'autres scientifiques. L'investigateur original a pu oublier une ou plusieurs variables qui pourraient avoir affecté ses conclusions. L'expérience, ou l'observation originale, pourrait être en conflit avec une autre théorie scientifique, et cela doit être résolu. Une expérience ou observation future pourrait se fonder sur les résultats de l'expérience ou de l'observation courante, et ainsi de suite.
Les étrangers sur lesquels Epo et Alkina sont tombés ne font pas leurs propres observations ou leurs propres expériences sur l'origine de l'Univers, mais ils sont assez futés pour vérifier les informations qu'ils rassemblent, même si elle viennent d'une source fiable comme Epo et Alkina. Parfois il n'est pas possible d'entreprendre ses propres expériences pour cause de coût trop élevé ou de manque de temps. Dans ce cas, comparer des données de deux sources différentes pour en tirer ses propres conclusions sur un sujet particulier est également une manière valide d'examiner une théorie scientifique.
Par exemple, vous pourriez être invité à rédiger un rapport sur le changement climatique mondial. Vous ne vous contenteriez pas d'une seule source d'information pour écrire votre papier, n'est ce pas? Nous l'espérons bien! Bien que vous ne puissiez pas être tenu responsable de ne pas faire vos propres expériences pour un simple exposé de classe, votre professeur s'attendra tout de même à ce que vous examiniez soigneusement le sujet, en rassemblant des informations de différentes sources fiables pour rédiger votre rapport.
[/lang_fr][lang_it]
Un nuovo episodio ogni Lunedi!
E' tutto?
You're the Scientist (Tu sei lo scienziato) – Attività didattica sulla verifica di dati raccolti da altri.
Why do scientists publish results of their work in scientific journals? (Perché gli scienziati pubblicano i risultati del loro lavoro su riviste scientifiche?)
Ehi, dov'è la mia scienza?
Un passo molto importante del processo scientifico è la verifica delle osservazione o dei dati presentati da qualcuno. Non è importante quanto bravo o famoso sia lo scienziato che li presenta; se viene fatta una affermazione questa deve essere verificata da altri scienziati per essere valida. Questo non perché uno scienziato non si fidi degli altri. Sono molte le ragioni per cui le affermazioni degli scienziati devono essere verificate. Lo sperimentatore potrebbe non aver tenuto conto di tutte le variabili che potrebbero influenzare le conclusioni tratte. L'esperimento o l'osservazione originale potrebbe essere in conflitto con un'altra teoria scientifica, con la quale si deve riconciliare. Alcuni esperimenti futuri potrebbero basarsi sui risultati dell'esperimento corrente. E cosi via.
Gli alieni in cui si sono imbattuti Epo e Alkina non stanno facendo osservazioni o esperimenti propri per capire l'origine dell'Universo, ma sono bravi abbastanza da saper verificare le informazioni raccolte, anche se provengono da una fonte molto attendibile come Epo e Alkina. Talvolta non è possibile condurre un proprio esperimento per ragioni di costo o di tempo. In questo caso, comparare dati provenienti da due fonti diverse per giungere a qualcosa di conclusivo su un particolare argomento, è un metodo altrettanto valido per provare una teoria scientifica. Per esempio, vi potrebbe essere chiesto di scrivere una relazione sul cambiamento climatico globale. In questo caso non usereste solo una fonte di informazioni, vero? Spero proprio di no. Mentre non ci si aspetta che conduciate un vostro esperimento per una semplice relazione scolastica, il vostro insegnante si aspetta che approfondiate l'argomento raccogliendo informazioni da varie fonti tutte egualmente attendibili.
[/lang_it]
Tags: process, scientific method, verification