Epo
sode

120: Countdown to GRB!|Epo

sodio

120: ¡La cuenta regresiva para el GRB!|Epo

sodio

120: Compte à rebours|Epo

sodio

120: Conto alla rovescia per i GRB!

[lang_en]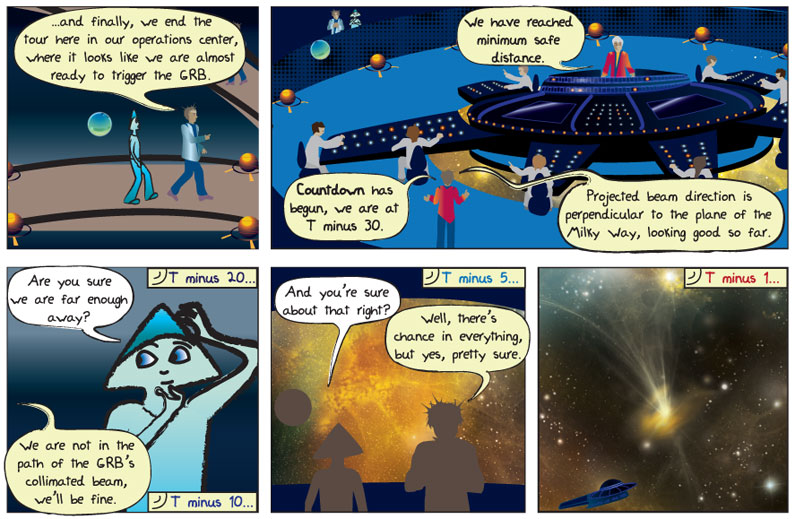 Show Transcript
Comic Transcript
Panel 1.
Carl: …and finally, we end the tour here in our operations center, where it looks like we are almost ready to trigger the GRB.
Panel 2.
Captain: We have reached minimum safe distance.
Wosec: Countdown has begun, we are at T minus 30.
Panel 3.
[Over the speaker: T minus 20]
Wosec: Projected beam direction is perpendicular to the plane of the Milky Way, looking good so far.
Panel 4.
[Over the speaker: T minus 10]
Alkina: Are you sure we are far enough away?
Carl: We are not in the path of the GRB's collimated beam, we'll be fine.
Panel 5.
[Over the speaker: T minus 5]
Alkina: And you're sure about that right?
Carl: Well, there's chance in everything, but yes, pretty sure.
Panel 6.
[Over the speaker: T minus 1]
[Image of the exterior of the Burton ship can be seen along with binary star system off in the distance.]
Hide Transcript
What does it mean?
Countdown – A series of time-sensitive procedures that are carried out leading up to the launch of a mission. While the last few seconds of the countdown are the most iconic, countdowns for spaceflight missions often range between 72 and 96 hours. T minus indicates the time remaining until launch, after launch, the clock starts counting up and mission time is measured as T plus.
In human speak please!
Gamma-ray bursts, like many discoveries in science, were discovered quite by accident. Scientists never expected to find bursts of high energy radiation coming from the Universe. What they did fear they might find was gamma rays coming from the Earth in the form of nuclear weapons testing. In 1963 the United States and the Soviet Union signed the Partial Nuclear Test Ban Treaty to prohibit testing of weapons in the atmosphere, oceans, and space. Also in 1963, the United States launched the first of an eventual 5 pairs of Vela satellites. The satellites monitored Earth for telltale bursts of gamma rays, an indication that the Soviets had violated the treaty. In 1967, in a bit of scientific serendipity, the Vela satellites detected gamma rays from a non-terrestrial source, something that astronomers had never seen before and did not expect. The discovery was not made public until the mid 1970s due to the clandestine nature of the Vela program, so only the scientists working for the US Defense Department were aware of it at first. It took decades for scientists to accumulate enough data to begin to understand these sources. They were aided greatly by the construction and launch of satellites intended specifically to study "extraterrestrial" sources of high energy photons. It was not until the late 1990s that scientists were able to begin testing their ideas about the nature of gamma-ray bursts, such as hypernovae, collisions between neutron stars, or massive objects falling into black holes. Even now there are many questions remaining to be answered about gamma-ray bursts.
Is that all?
Special Edition: Vela – An episode of Epo's Chronicles that highlights the Vela satellites.
Multimedia? Yep, we've got it right here!
Gamma-Ray Bursts: Flashes in the Sky – American Museum of Natural History video on gamma-ray bursts.
[/lang_en][lang_es]
¡Un episodio nuevo cada lunes!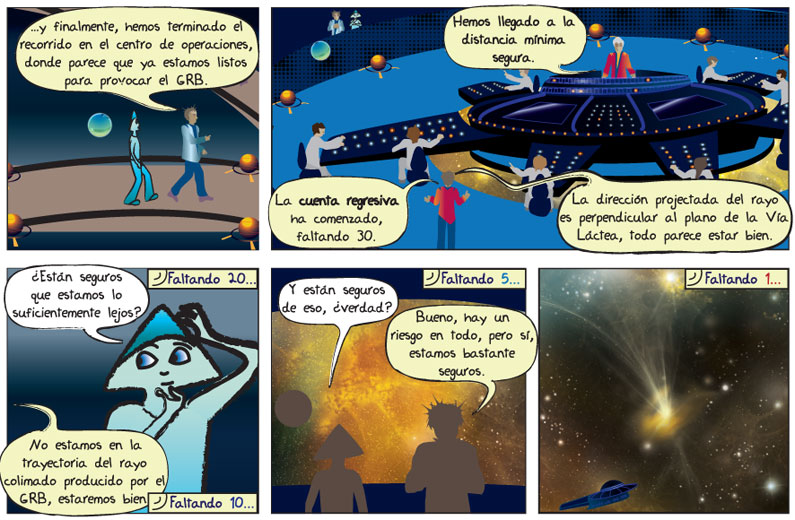 Mostrar la transcripción
Transcripción de Comic
Pánel 1.
Carl: … y finalmente, hemos terminado el recorrido en el centro de operaciones, donde parece que ya estamos listos para provocar el GRB.
Pánel 2.
Capitán: Hemos llegado a la distancia mínima segura.
Wosec: La cuenta regresiva ha comenzado, faltando 30.
Pánel 3.
[Por el altavoz: Faltando 20]
Wosec: La dirección projectada del rayo es perpendicular al plano de la Vía Láctea, todo parece estar bien.
Pánel 4.
[Por el altavoz: Faltando 10]
Alkina: ¿Están seguros que estamos lo suficientemente lejos?
Carl: No estamos en la trayectoria del rayo colimado producido por el GRB, estaremos bien.
Pánel 5.
[Por el altavoz: Faltando 5]
Alkina: Y están seguros de eso, ¿verdad?
Carl: Bueno, hay un riesgo en todo, pero sí, estamos bastante seguros.
Pánel 6.
[Por el altavoz: Faltando 1]
[La imágen del exterior de la nave Burton puede verse junto con el sistema binario en la distancia.]
Esconder transcripción
¿Qué significa eso?
Cuenta regresiva – Se refiere a una serie de procedimientos que dependen altamente del tiempo y que son llevados acabo en la víspera del lanzamiento de una misión. Mientras que los últimos cuantos segundos son los más simbólicos, las cuentas regresivas para las misiones espaciales son entre 72 y 96 horas.
¡En nuestra lengua por favor!
Los brotes de rayos Gamma, como muchos descubrimientos en la ciencia, fueron descubiertos por accidente. Los científicos jamás esperaban encontrar brotes de radiación de alta energía proveniente del Universo. Lo que sí temían era detectar rayos Gamma provenientes de la Tierra debidos a pruebas de armas nucleares. En 1963, los Estados Unidos y la Unión Soviética firmaron el Tratado de prohibición parcial de ensayos nucleares, para prohibir las pruebas de armas en la atmósfera, océanos y el espacio. También en 1963, los Estados Unidos lanzaron el primero de los cinco pares de satélites Vela. Los satélites monitoreaban la Tierra para detectar rayos Gamma, indicadores de que los soviéticos había violado el tratado. En 1967, los satélites Vela detectaron, en un momento de suerte científica, una fuente extra-terrestre de rayos Gamma, algo que los astrónomos nunca antes habían visto y no se esperaban. El descubrimiento no se hizo público hasta la mitad de la década de los setentas por la naturaleza clandestina de los satélites Vela, así que sólo los científicos que trabajaban para el Departamento de Defensa de los Estados Unidos sabían de él desde el principio. Los científicos necesitaron décadas para acumular la información suficiente para empezar a entender estas fuentes. Fueron ayudados enormemente por la construcción y lanzamiento de satélites diseñados para el estudio de las fuentes "extraterrestres" de fotones de altas energías. No fue hasta el final de los noventas que los científicos pudieron probar sus ideas sobre la naturaleza de los brotes de rayos Gamma, tales como las hipernovas causadas por el choque entre estrellas de neutrones, o por objetos masivos cayendo dentro de hoyos negros. Incluso hoy en día todavía hay muchas preguntas en espera de respuesta sobre los brotes de rayos Gamma.
¿Eso es todo?
Edición especial: Vela – Es un episodio de las Cróncias de Epo sobre los satélites Vela.
¿Multimedia? Sí, ¡aquí la tenemos!
Brotes de rayos Gamma: Destellos en el cielo – Es un video sobre los brotes de rayos Gamma producido por el Museo Americano de Historia Natural o AMNH, por sus siglas en inglés (American Museum of Natural History).
[/lang_es][lang_fr]
Nouvel épisode chaque lundi!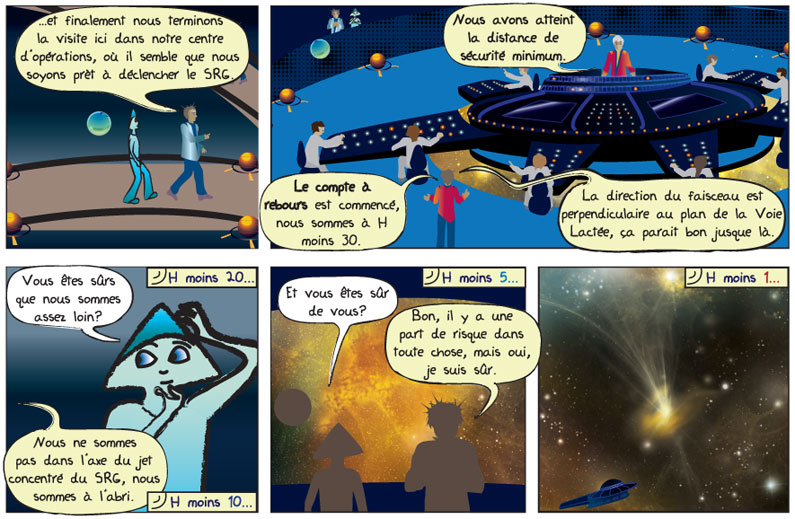 Montrer la transcription
Transcription comique
Panel 1.
Carl: …et finalement nous terminons la visite ici dans notre centre d'opérations, où il semble que nous soyons prèt à déclencher le SRG.
Panel 2.
Capitaine: Nous avons atteint la distance de sécurité minimum.
Wosec: Le compte à rebours est commencé, nous sommes à H moins 30.
Panel 3.
[Par les hauts parleurs: H moins 20]
Wosec: La direction du faisceau est perpendiculaire au plan de la Voie Lactée, ça parait bon jusque là.
Panel 4.
[Par les hauts parleurs: H moins 10]
Alkina: Vous êtes sûr que nous sommes assez loin?
Carl: Nous ne sommes pas dans l'axe du jet concentré du SRG, nous sommes à l'abri.
Panel 5.
[Par les hauts parleurs: H moins 5]
Alkina: Et vous êtes sûr de vous?
Carl: Bon, il y a une part de risque dans toute chose, mais oui, je suis sûr.
Panel 6.
[Par les hauts parleurs: H moins 1]
[Image de l'exterieur du vaisseau Burton avec vue au loin sur le système d'étoile binaire.]
Masquer la transcription
Qu'est ce que cela signifie?
Compte à rebours – Une série de procédures sensibles au facteur temps qui sont réalisées avant le lancement d'une mission. Alors que les dernières secondes du compte à rebours sont les plus emblématiques, les comptes à rebours pour les vols habités se situent souvent entre 72 et 96 heures. T moins indique le temps restant avant le lancement, après le lancement, l'horloge commence à compter et le temps de mission est mesurée comme T plus.
En langage courant!
Les sursauts gamma, comme de nombreuses découvertes scientifiques, ont été découverts par hasard. Les scientifiques ne s'attendaient pas à trouver des éclats de rayonnement de haute énergie en provenance de l'Univers. Ce qu'ils ont eu peur de trouver c'était des rayons gamma provenant de la Terre sous forme d'essais d'armes nucléaires. En 1963, les États-Unis et l'Union soviétique ont signé le Traité d'interdiction partielle des essais nucléaires interdisant les essais d'armes dans l'atmosphère, les océans et l'espace.
Ainsi en 1963, les États-Unis ont lancé le premier d'une série de 5 paires de satellites du projet Vela. Ces satellites surveillaient la Terre pour détecter des eclairs de rayons gamma qui auraient indiqué que les Soviétiques avaient désobéi au traité. En 1967, la détection de rayons gamma provenant d'une source non-terrestre par les satellites Vela, fut une surprise à laquelle les astronomes ne s'attendaient pas, n'ayant jamais vu cela auparavant. La découverte n'a été rendue publique que tard dans les années 70 en raison de la nature clandestine du projet Vela. De ce fait, seuls les scientifiques travaillant pour le Département Américain de la Défense étaient au courant.
Il a fallu aux scientifiques des décennies pour accumuler suffisamment de données pour commencer à comprendre les sources. Les recherches ont été fortement facilitées par la construction et le lancement de satellites destinés spécifiquement à l'étude de sources "extraterrestre" de photons à haute énergie. Ce n'est qu'à la fin des années 90 que les scientifiques ont pu commencer à tester leurs idées sur la nature des sursauts gamma, comme les hypernovae, les collisions entre les étoiles à neutrons, ou encore l'effondrement d'objets massifs dans les trous noirs. Même maintenant, beaucoup de questions concernant les sursauts gamma restent sans réponse.
C'est tout?
Speciale Edition: Vela – Un épisode des Chroniques d'Epo à propos des satellites Vela.
Multimédia? Nous avons ça ici!
Gamma-Ray Bursts: Flashes in the Sky – Vidéo sur les sursauts gamma du Musée Americain d'Histoire Naturelle .
[/lang_fr][lang_it]
Un nuovo episodio ogni Lunedi!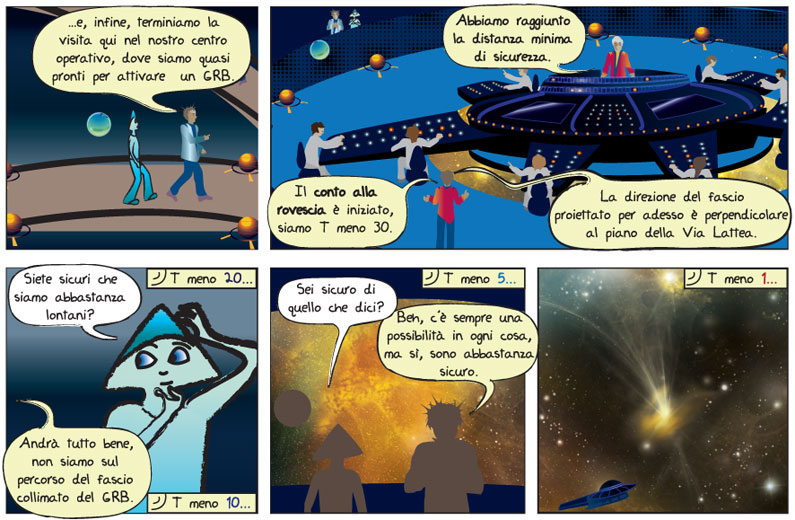 Mostra la trascrizione
Trascrizione del fumetto
Quadro 1.
Carl: …e, infine, terminiamo la visita qui nel nostro centro operativo, dove siamo quasi pronti per attivare un GRB.
Quadro 2.
Capitano: Abbiamo raggiunto la distanza minima di sicurezza.
Wosec: Il conto alla rovescia è iniziato, siamo T meno 30.
Quadro 3.
[Attraverso l'altoparlante: T meno 20]
Wosec: La direzione del fascio proiettato per adesso è perpendicolare al piano della Via Lattea.
Quadro 4.
[Attraverso l'altoparlante: T meno 10]
Alkina: Siete sicuri che siamo abbastanza lontani?
Carl:Andrà tutto bene, non siamo sul percorso del fascio collimato del GRB.
Quadro 5.
[Attraverso l'altoparlante:T meno 5]
Alkina: Sei sicuro di quello che dici?
Carl: Beh, c'è sempre una possibilità in ogni cosa, ma sì, sono abbastanza sicuro.
Quadro 6.
[Attraverso l'altoparlante: T meno 1]
[Immagine dell'esterno della nave Burton, in lontananza si vede un sistema di stelle binario.]
Nascondere la trascrizione
Cosa significa?
Conto alla rovescia – E' la procedura temporale utilizzata per il lancio di una missione. Gli ultimi secondi del conto alla rovescia sono i più importanti. Il conto alla rovescia per le missioni di volo spaziale parte spesso da 72 o 96 ore. T meno indica il tempo rimanente al lancio; dopo il lancio, l'orologio inizia a contare in avanti il tempo e la missione viene misurata in T più.
Nella nostra lingua per favore!
I lampi di raggi gamma, come molte scoperte in campo scientifico, sono stati scoperti quasi per caso. Gli scienziati non si aspettavano di osservare esplosioni di radiazione ad alta energia provenienti dall'Universo. Quello che temevano di trovare erano raggi gamma provenienti dalla Terra e provocati da test di armi nucleari. Nel 1963 gli Stati Uniti e l'Unione Sovietica firmarono il Trattato sulla messa al bando parziale dei test nucleari pe vietare la sperimentazione di armi nucleri nell'atmosfera, negli oceani, e nello spazio. Sempre nel 1963, gli Stati Uniti lanciarono il primo dei satelliti Vela, satelliti che dovevano monitorare la Terra e rivelare eventuali raggi gamma indicanti che i sovietici avevano violato il trattato. Nel 1967, fortunosamente, i satelliti Vela rivelarono raggi gamma da una sorgente non-terrestre, cosa che gli astronomi non avevano mai visto prima e non si aspettavano. La scoperta non fu resa pubblica fino alla metà del 1970, a causa della natura clandestina del programma Vela. Solo gli scienziati che lavoravano per il Dipartimento della Difesa degli Stati Uniti erano a conoscenza di questa scoperta. Ci sono voluti decenni agli scienziati per accumulare dati a sufficienza per cominciare a capire queste sorgenti di raggi gamma. Un grosso aiuto è venuto dalla costruzione e dal lancio di satelliti dedicati specificatamente allo studio delle sorgenti "extraterrestri" di fotoni di alta energia. Solo alla fine del 1990 gli scienziati sono stati in grado di provare le loro idee sull'origine, dei lampi di raggi gamma, come ad esempio le ipernove, le collisioni tra stelle di neutroni, o la caduta di oggetti massicci in buchi neri. Tuttavia ancora adesso ci sono molte domande circa l'origine dei lampi di raggi gamma.
E' tutto?
Edizione Speciale: Vela – Un episodio delle Cronache di Epo, che mette in evidenza i satelliti Vela.
Multimedia? Certo, l'abbiamo qui!
Gamma-Ray Bursts: Flashes in the Sky – Un video sui lampi di raggi gamma del Museo americano di Storia Naturale.
[/lang_it]
Tags: gamma-ray burst, history, veal